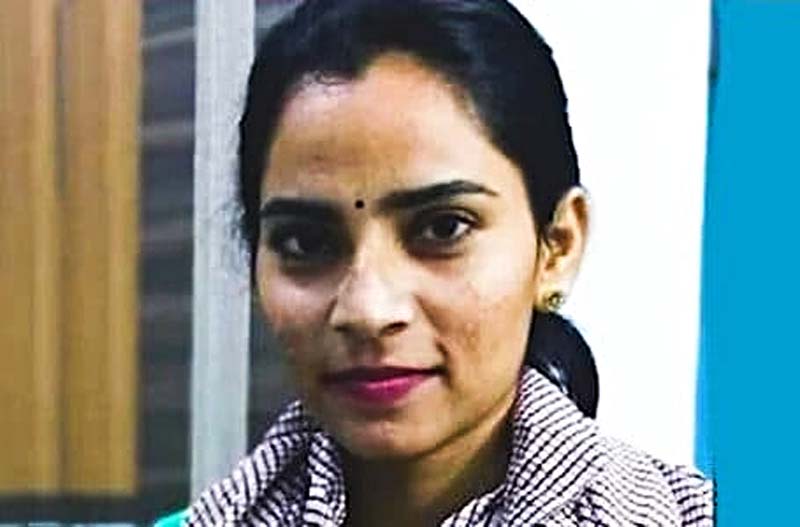 Nodeep Kaur was denied bail by Sessions Court, Sonepat, Haryana on February 2 and continues to be lodged in Karnal jail while her family claims that she is being tortured, sexually assaulted in custody. The family will be approaching the Punjab and Haryana High Court soon.
She has been charged under sections 148 (rioting), 149 (unlawful assembly), 332 (causing hurt to deter public servant from his duty), 353 (assault on public servant), 186 (Obstructing public servant), 384 (extortion), 379-B (snatching and use of force), and 307 (attempt to murder) of the IPC.
Her bail application was heard by Sessions Judge Yashvir Singh Rathor. The case was registered on the basis of the statement of Inspector Ravi Kumar SHO Police Station Kundli, Sonipat stating that on January 12 he received a telephone call that few persons are trying to forcibly enter in factory no.349 in Industrial Area HSIIDC Kundli for extortion while armed with lathies and dandas. After reaching there, he states that he saw that 2-3 girls and 50-60 persons armed with lathies and dandas were raising slogans. He states that the armed group attacked the police officials with lathis and one of them tried to snatch the policemen's gun as also case files. He stated that Nodeep Kaur was leading the mob.
The counsel for Nodeep argued that it was the police who beat her and the labourers, while they were standing near the factory without any provocation. The prosecution opposed the bail plea stating that Nodeep was leading the mob and that she indulged in extortion of money from the factory owners with the aid of people protesting at 'Kisan Andolan at Kundli'.
The court held that allegations against the applicant are serious in nature. The court also pointed out that there is another FIR pending against her relating to extortion of money and threats It further observed that investigation is still at initial stage and remaining accused have not been arrested as yet and in view of the gravity of the offence, the court held that the "applicant does not deserve concession of bail and bail application is dismissed".
The court order may be read here.
Background
23-year-old Nodeep Kaur has been in Karnal Jail for nearly a month and her family has alleged that she was also assaulted in custody, in the same jail that she is still lodged in. A Dalit, trade union activist, Nodeep Kaur hails from Punjab and is associated with the Majdoor Adhikar Sangathan (MAS). She had been participating in the farmers' agitation at Singhu border since December 2020.
Nodeep Kaur had been sitting on a peaceful protest at Singhu with a group of factory workers from Kundli Industrial Area, in solidarity with the dissenting farmers. The workers are also facing similar problems like the farmers, and have alleged they have been exploited by employers, their wages withheld, and jobs taken away. This has increased since they began to support the farmers movement. They have also alleged that they have been targeted by the armed guards of the Kundli Industrial Association and the Haryana Police.
On January 12, 2021, the Haryana Police came to her tent and arrested Nodeep. Her sister Rajveer Kaur has alleged that Haryana Police has targeted Nodeep and assaulted her in custody. She spoke to SabrangIndia, and has said targeting Nodeep is another example of the state's efforts to discredit and malign the Kisan Andolan, and break solidarity it has forged with the worker unions. Rajveer Kaur, in an interview with Sabrang India said, "She was beaten by male police officers, she was hit on the back, on her private parts. She was arrested on January 12, and we reached the police station [late that night] but were told she had been sent to Karnal. There, the next day, I found out that she had been tortured, they did not even give her the medicines we had handed over. The SHO wanted to show her as a gang leader, she is just 23 years old, has completed her class 12 and was planning to apply to the Delhi university as an undergraduate. She is being framed and we will fight that."
Release Nodeep Kaur
SabrangIndia's sister organisation, Citizens for Justice and Peace (CJP) has launched an online petition urging Punjab & Haryana High Court Chief Justice Ravi Shankar Jha to ensure Kaur gets justice. CJP petition not only demands her immediate release, but also that all the trumped up charges against her be dropped.
CJP has also urged those who sign the petition, to write to the Karnal jail authorities and protest the atrocities against Kaur.
The petition on Change.org may be signed here: Release Dalit Trade Union Activist Nodeep Kaur
Related:
Release Dalit Trade Union activist Nodeep Kaur: CJP
Why was Dalit labour rights activist, Nodeep Kaur, arrested from Singhu Border?