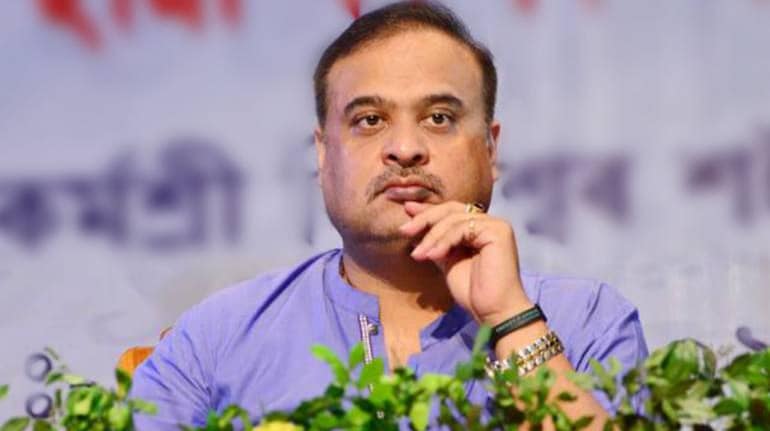 Image: PTI
The Election Commission has let off Assam Chief Minister Himanta Biswa Sarma with just a warning, asking him to exercise restraint while campaigning. As SabrangIndia had reported previously, five constituencies in Assam are all set for by-polls on October 30. These are: Bhapanipur, Gossaigaon, Mariani, Tamulpur and Thowra.
During campaigning in these constituencies, Sarma had been announcing a slew of sops such as developmental projects, loan waiver schemes etc., something that is a violation of the Election Commission of India's Model Code of Conduct (MCC). Under the rules for the Party in Power, point 6 says:
"From the time elections are announced by Commission, Ministers and other authorities shall not –
(a) announce any financial grants in any form or promises thereof; or
(b) (except civil servants) lay foundation stones etc. of projects or schemes of any kind; or
(c) make any promise of construction of roads, provision of drinking water facilities etc.; or
(d) make any ad-hoc appointments in Government, Public Undertakings etc. which may have the effect of influencing the voters in favor of the party in power."
This led Congress leader Debabrata Saikia, who is the Leader of the Opposition in the Assam Assembly, and Pradesh Congress Committee president Bhupen Kumar Borah, to file complaints with the state election commission on October 22 and 23 respectively. Also, on October 25, the Congress party wrote to the EC, appealing it to "direct lodging on an FIR and debarring Shri Himanta Biswa Sarma for engaging in Corrupt Practices and violating Model Code of Conduct." The Congress further urged the EC to "direct lodging of FIR and suspension, removal and initiation of disciplinary action against Gossaingaon district officials favouring the ruling BJP and acting against the Indian National Congress."
On October 25, the EC sent a showcause notice to Sarma asking him to explain his position by 5 P.M on Tuesday. Sarma responded within the deadline, denying all allegations. The Times of India reports that Sarma claimed that he had not made any new announcements and that all the projects he had spoken about were "regarding development work and financial assistance to self-help groups in tea gardens are either ongoing projects or already announced by the state government in budget speeches of 2020-21 and 2021-22 in the assembly." Sarma reportedly offered an unconditional apology for any inadvertent violation of the MCC.
The EC then observed that it was "of the considered view that Himanta Biswa Sarma, Star Campaigner for the Bharatiya Janata Party has acted in contravention to the spirit of the advisory/instruction issued by the Commission". However, it let off Sarma with just a mild rap on the knuckles, asking him to exercise restraint, instead of barring him from campaigning! The EC said, "The Commission issues warning to him to be more careful and exercise restraint in future and strictly follow the provisions Model Code of Conduct while making public utterances."
The EC's order may be read here: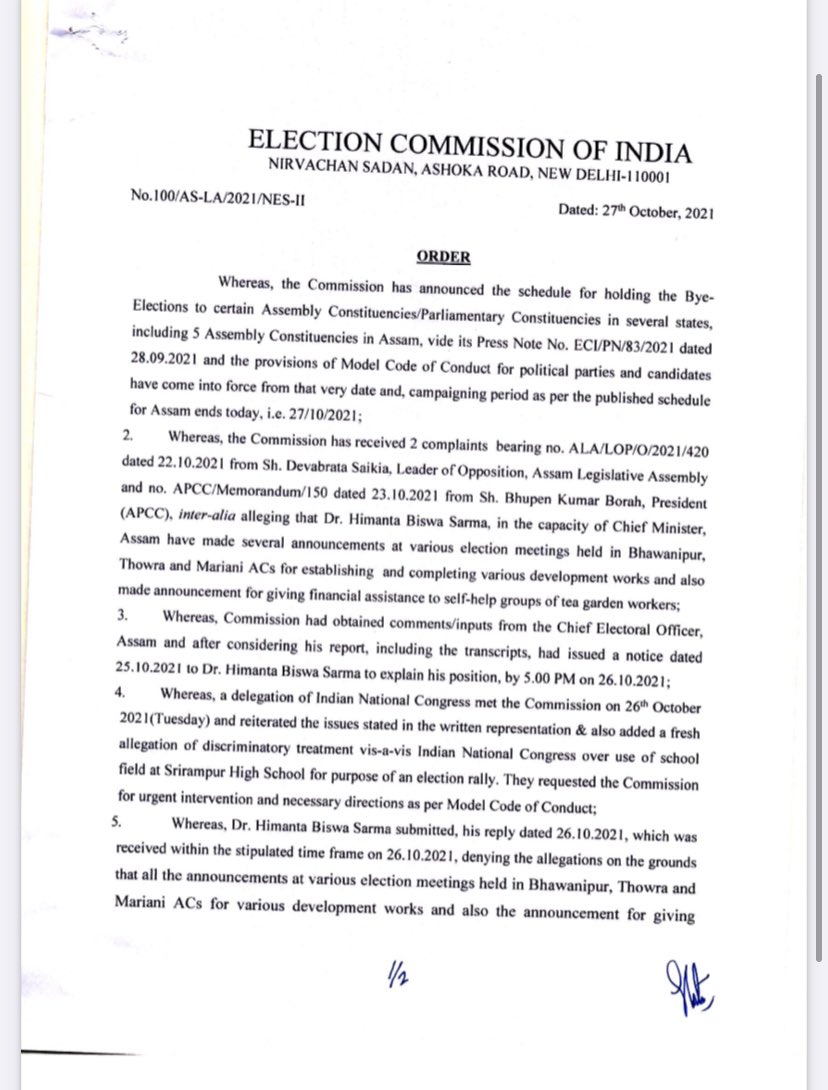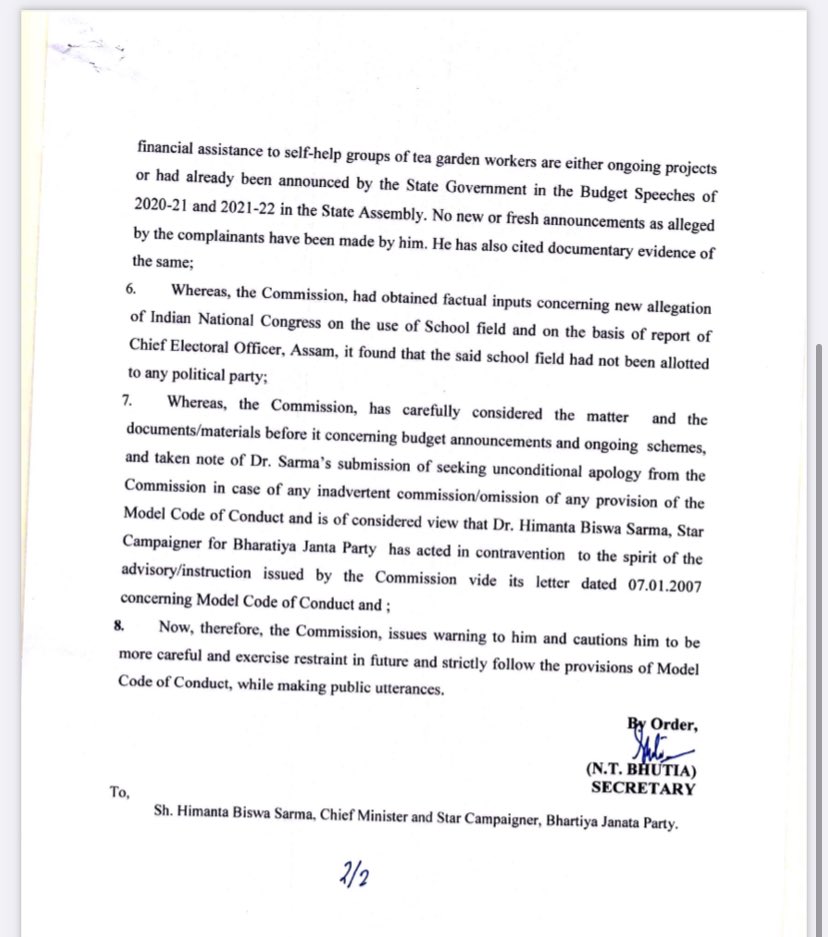 This appears to be a very mild response given how this isn't the first time Sarma has violated the MCC. SabrangIndia has reported previously that during the Assembly elections held earlier this year, the Election Commission of India (ECI) barred Sarma from campaigning for 48 hours after it emerged that he had allegedly said that Molihary, a Bodoland People's Front (BPF) leader will go to jail if he engages in extremist activity, and that the case was being given to the National Investigation Agency (NIA). Given this, Sarma should at least have been barred temporarily from campaigning. "EC should have given a far more stern (sic) punishment," tweeted Congress general secretary RS Surjewala, demanding, "BJP should now apologise to the people of Assam."
Meanwhile, another Assam BJP minister is in the dock for poll-code violation. The EC served notice to Ashok Singhal demanding an explanation for his remark demanding votes if people wanted a river embankment project while campaigning in Gossaigaon for Jiron Basumatary, the candidate fielded by BJP ally United People's Party Liberal (UPPL).
According to an English translation of his remark carried by NDTV, Singhal said, "Claps are not enough, you have to give votes. Give from one hand and take from another. First, you give and then I will give you/return the favour. If tomorrow people from Congress, BPF (Bodoland People's Front) and AIUDF (All India United Democratic Front) come and explain otherwise, and ask for votes then the work of the embankment will not begin."
This is a direct threat to withhold development by the party in power, that if people don't vote for the desired candidate, they will suffer consequences. Debabrata Saikai filed a complaint and on Wednesday, the EC served notice to Singhal, giving him until 5 P.M on Thursday to offer a response.
By-elections were necessitated in Tamulpur and Gossaigaon after the death of sitting Members of Legislative Assembly (MLAs). Meanwhile, in Bhapanipur, Mariani and Thowra by-elections are taking place because the candidates had switched parties and joined the BJP.
The Assam Assembly has a total of 126 seats, out of which 59 are currently held by the BJP after Sarbananda Sonowal's seat fell vacant when he was elected to the Rajya Sabha. BJP ally Asom Gana Parishad has nine seats, and another ally the United People's Party Liberal has five. The Congress meanwhile has 27 seats, AIUDF has 15 Bodoland People's Front has three and CPIM one. There is also one independent MLA.
Related:
Congress demands FIR against Assam CM for "corrupt practices", demands EC bars him from campaigning
Did Himanta Biswa Sarma violate Model Code of Conduct?
Himanta Biswa Sarma barred from campaigning, cop brother transferred