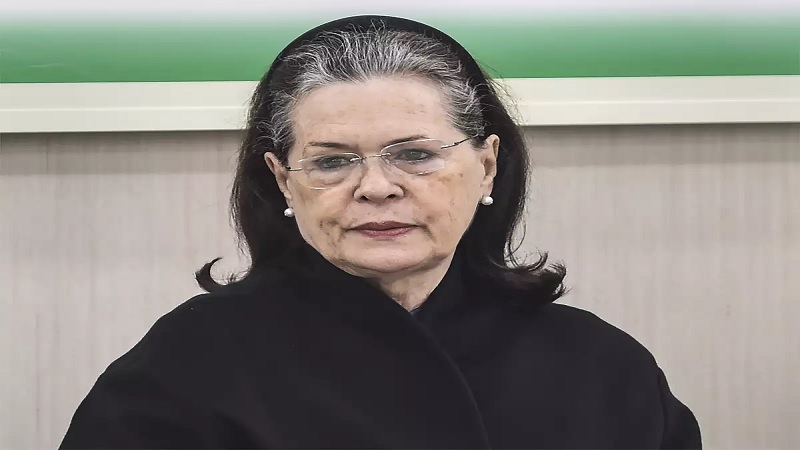 Image Courtesy:economictimes.indiatimes.com
"Let's move ahead," Congress President, Sonia Gandhi had reportedly told the senior leaders at the Congress Working Committee (CWC) meeting held in the last week of August. It took the party leaders seven hours of deliberations, to convince 73-year-old Sonia Gandhi to continue to lead them. The party is likely to hold elections for the post of its president sometime next year, however, the "necessary organisational changes" that were decided at the CWC have been put into place. Sonia Gandhi on Friday, has appointed a six-member core committee that will assist her in discharging her duties as the party president.
She has also attempted to address the 'rebellion' within the party and moved many major functionaries to new duties that will keep them engaged away from their 'home turfs'. For example, Jitin Prasada, is now a CWC permanent invitee and has been appointed as the party's Incharge-West Bengal & Andaman and Nicobar Islands, taking him away from Uttar Pradesh politics where he had begun active campaigns, projecting himself as a 'leader of Brahmins', rather than just a Brahmin leader. Prasada, a former Union Minister of State for Steel, Petroleum & Natural Gas, Road Transport & Highways and Human Resource Development had even launched an 'awareness crusade' for his community. He had posted the event proudly as: 'Brahma_Chetna_' dialogue, as descendants of lost Parshurama, "walking on the path of justice, will bring back the lost honor, glory and pride of our society."
"ब्रह्म_चेतना_संवाद" जन-जन के आस्था के प्रतीक जनपद #चित्रकूट से हुआ। हम सभी न्याय के पथ पर चलते हुए भगवान परशुराम के बंशज अपने समाज के खोये मान-सम्मान, गौरव को वापस लाकर ही रहेंगे। संवाद में शामिल सभी का आभार…? pic.twitter.com/vIqWGuf03a

— Jitin Prasada जितिन प्रसाद (@JitinPrasada) August 26, 2020
However today, he has accepted the new appointment as expected, and is "grateful" to both the Congress President Sonia Gandhi, as well as Rahul Gandhi for "reposing their faith" in him.
I am grateful to the Congress President Smt. Sonia Gandhi ji and @RahulGandhi ji for reposing their faith in me and my commitment to the Congress party. I hope to fulfill my new responsibilities to the best of my abilities. @INCWestBengal pic.twitter.com/CR6vV2Eyy8

— Jitin Prasada जितिन प्रसाद (@JitinPrasada) September 11, 2020
Sonia Gandhi's organisational reshuffle on Friday has mixed up 'seniors' and 'juniors' at various leadership levels. Perhaps this mix of loyalists and those with rebellious streaks is going to help address dissent as soon as it is voiced. The Indian Express reports that a six-member special committee, will now assist Gandhi in organisational and operational matters. The members are AK Antony, Ahmed Patel, Ambika Soni, KC Venugopal, Mukul Wasnik, Randeep Singh Surjewala. The CWC meeting of August 24, it was decided that a committee would be set up to assist Sonia Gandhi to look into the issues raised in a letter that 23 leaders had signed calling for reforms within the party. They were instantly called 'rebels'. However, Gandhi has used this as an opportunity to restructure, and send the message that the party leadership was as democratic as it claims.
The new general secretaries of the Congress are Mukul Wasnik, Harish Rawat, Oommen Chandy, Tariq Anwar, Priyanka Gandhi Vadra, Surjewala, Jitendra Singh, Ajay Maken, KC Venugopal. Many prominent names have been dropped from this much coveted party position. They are : Ghulam Nabi Azad, Mallikarjun Kharge, Motilal Vora, Ambika Sonia and Luizinho Faleiro, reported IE. A direct impact it seems, of the letter signed by 23 senior leaders of the Congress, including five former Chief Ministers, many Congress Working Committee members, sitting MPs, and several former Union Ministers.
They had asked for "visible" and "active" and a "full time and effective leadership". They had also sought elections to the CWC; and the urgent establishment of an "institutional leadership mechanism" to "collectively" guide the party's revival, reported the IE. Azad, the leader of Opposition in the Rajya Sabha, former Union Ministers Anand Sharma, Kapil Sibal, Manish Tewari, Shashi Tharoor were among the signatories to the letter.
Now, the CWC itself has been reconstituted the CWC, led by Sonia Gandhi, the other members are former prime minister Manmohan Singh, former Congress president Rahul Gandhi, AK Antony, Ahmed Patel, Ambika Sonia, Ghulam Nabi Azad, Anand Sharma, Harish Rawat, Venugopal, Kharge, Wasnik, Chandy, Maken, Priyanka Gandhi, P Chidambaram, Jitendra Singh, Anwar, Surjewala, Gaikhangam, Raghuveer Singh Meena, and Tarun Gogoi.
Congress President Smt. Sonia Gandhi has reconstituted the Congress Working Committee as follows: pic.twitter.com/Fti9oYxJUr

— Congress (@INCIndia) September 11, 2020
The CWC permanent invitees include, Digvijaya Singh, Meira Kumar, Adhir Ranjan Chowdhury, Jairam Ramesh, Salman Khurshid, Avinash Pandey, KH Muniyappa, Pramod Tiwari, Tariq Hameed Karra, Pawan Kumar Bansal, Rajani Patil, PL Punia, R.P.N Singh, Shakisinh Gohil, Rajeev Satav, Rajeev Shukla, Jitin Prasada, Dinesh Gundu Rao, Manickam Tagore, Chellakumar, H.K Patil, Devendra Yadav, Vivek Bansal, Manish Chatrath, Bhakta Charan Das, and Kuljit Singh Nagra
Congress President Smt. Sonia Gandhi has reconstituted the AICC Central Election Authority. pic.twitter.com/BhfBnejk3P

— Congress (@INCIndia) September 11, 2020
Related:
Congress CWC puts 'rebels' in place, starts planning for political combat
Why did Priyanka Gandhi's comment on crime in UP get so many official responses?
Uttar Pradesh's alleged 'Brahmin victimhood' fuels saviour complex in Opposition parties