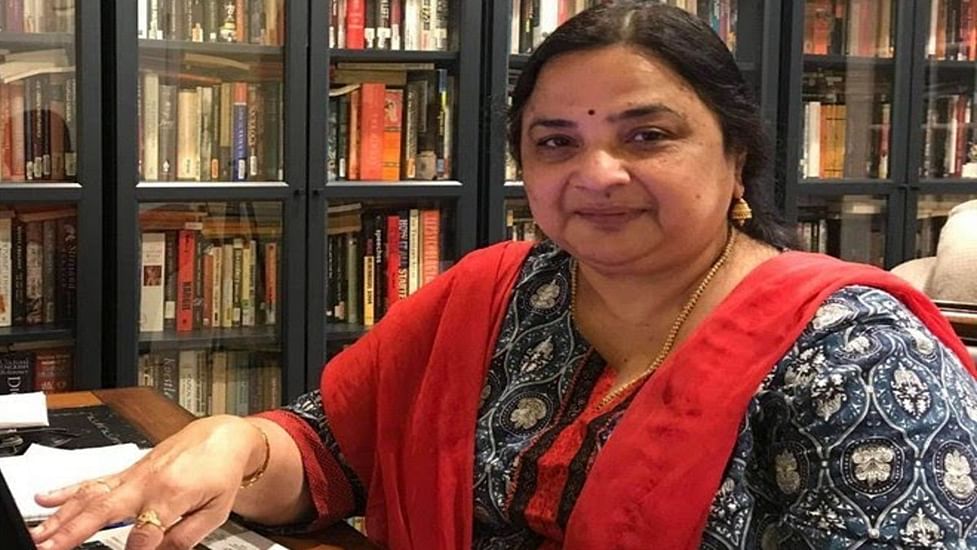 The first statement that Jawaharlal Nehru University's newly appointed Vice-Chancellor Santishree Dhulipudi Pandit, issued was to thank the Prime Minister and Minister of Higher Education for giving her the job. She added that her focus would be on "constructing Indo-centric narratives," as well as "the implementation of the National Education Policy".
The statement by the first woman VC of JNU who is also an alumna of the university, has made public that the agenda of the VC is on the same lines as that of the Bharatiya Janata Party-led Union Government.
"The immediate focus of this administration would be to provide a clean administration, student-friendly and gender-sensitive environment for academic excellence. We would strive to implement NEP-2020, the vision of our Hon'ble Prime Minister, especially in interdisciplinary and multi-disciplinary areas of studies, JNU rising to greater heights of academics and research. The focus would be in constructing Indo-centric narratives," read her statement, which was shared by politician Varun Gandhi.
This press release from the new JNU VC is an exhibition of illiteracy,littered with grammatical mistakes (would strive vs will strive;students friendly vs student-friendly;excellences vs excellence).Such mediocre appointments serve to damage our human capital & our youth's future pic.twitter.com/tSanmy3VfR

— Varun Gandhi (@varungandhi80) February 8, 2022
Grammatical errors are, however, the least of the concerns here. There is much to read between the lines of BJP MP Varun Gandhi calling the appointment of Santishree Dhulipudi Pandit 'atrocious'. While the twitter handle @SantishreeD purposely that of the 59-year-old professor has not been deleted, screenshots of hardened Hindutva opinions are going viral online. They showcase the Saffron soaked opinions which are communal and divisive.
Newly appointed Vice Chancellor of JNU. pic.twitter.com/tkxv9wAG4Z

— Mohammed Zubair (@zoo_bear) February 7, 2022
However, a matter of deeper concern was raised by a report in the Indian Express that delves into the career history of Santishree Dhulipudi Pandit who succeeded M Jagadesh Kumar, who in turn, was recently appointed chairman of the University Grants Commission (UGC). The Ministry of Education (MoE) announced recently that Pandit, a professor of political science at Savitribai Phule Pune University, will be the new V-C of JNU, the first woman to head the university. The big question raised is why was she chosen above others?
According to the IE, Pandit's parent university had informed the Union government that her increments were withheld on two occasions for alleged misconduct. "In its vigilance report to the MoE, the Savitribai Phule Pune University stated that authorities had imposed a penalty of permanently withholding Pandit's five increments with effect from July 1, 2011, and another two increments from July 1, 2017," stated the report adding that "this punishment was imposed after an inquiry by a retired judge in 2009 found her guilty of not following rules prescribed by the UGC and AICTE while granting admission to PIO (Persons of India Origin) students under the 15% supernumerary quota from the years 2002 to 2007 when she was holding additional charge of the post of Director of the International Student Centre. Pandit had denied the charges against her at that time." She is yet to respond to the raging controversy over her purported "online opinions" as well.
Meanwhile, screenshots of @SantishreeD, the unverified Twitter handle that bears her name show posts tweets calling Jamia Millia Islamia and St. Stephen's College "communal campuses", the other terms freely used against activists include "mentally-ill jihadists". The tweets called JNU students "losers who have lost control" and said she/ it will give farm leader Rakesh Tikait "a rope to hang [himself]" .
JNU VC on Godse pic.twitter.com/JtuY8vYA3z

— N Sai Balaji | ఎన్ సాయి బాలాజీ (@nsaibalaji) February 7, 2022
Introducing the new VC of JNU — clearly a role model of scholarship for its students and faculty. pic.twitter.com/cTpvfte85P

— Yogendra Yadav (@_YogendraYadav) February 7, 2022
The IE reported, the new VC has always been "publicly critical of what she claims are incorrect narratives in Indian history". At a recent webinar on the 126th birth anniversary of Netaji Subhas Chandra Bose, organised by the Political Science Department of Delhi's Sri Venkateswara College, Pandit criticised the NCERT school textbooks for "focusing too much on the Mughals" and the "Nehru-Gandhi dynasty". "Savarkar was a revolutionary, you may agree with him or not but please read Savarkar before condemning him. That is my plea," she reportedly said.
This hate monger who hailed Godse killing father of the nation is the new Vice Chancellor of JNU. Wondering how, after Gandhi, she would deal with Nehru whose name is hiding in JNU. pic.twitter.com/9O35hLnp49

— E M Abdul Rahiman (@EMAbdulRahiman1) February 8, 2022
According to the news report, Pandit's name for the post of JNU VC was recommended, among a few others, "by a three-member search-cum-selection-committee which had National Board of Accreditation chairperson Professor K K Aggarwal, retired IAS officer Yogendra Narain and academician and former MLC Ashok Modak." The report added that both Aggarwal and Narain claimed they were not aware of the inquiry against Pandit as well as the punishment imposed at the time of her interaction with the panel.
Related:
Gauri Lankesh's journalism revealed how Hate was a State project
Girls should know when to draw the line: JNU ICC on preventing sexual harassment
JNU administration draws flak for allegedly exploiting sanitation workers