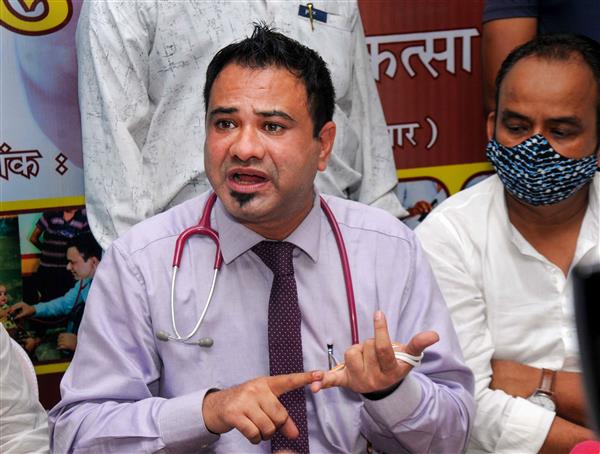 In 2017, Paediatrician Dr Kafeel Khan was accused of being responsible for the death of several children on the intervening night of August 10 and 11, 2017. These tragic deaths were reportedly caused because the state-run BRD Medical College Hospital ran out of oxygen on the fateful night. The young victims were being treated in the encephalitis ward, and died within a span of 48 hours.
Dr Kafeel Khan has now announced that he has been sacked by the Uttar Pradesh state government, and that he will wait for the official orders and then challenge it in court. According to Dr Khan this action of the government of UP comes even after he got a "clean chit from a court".
63 बच्चों ने दम तोड़ दिया क्योंकि सरकार ने O2 सप्लायरों को भुगतान नहीं किया

8 डॉक्टर, कर्मचारी निलम्बित -7 बहाल

कई जाँच/अदालत द्वारा चिकित्सा लापरवाही और भ्रष्टाचार के आरोप में क्लीन चिट मिलने के बावजूद- मैं बर्खास्त

माँ बाप-इंसाफ़ के लिए भटक रहे
न्याय? अन्याय ?
आप तय करें ? pic.twitter.com/BOMio2aLuP

— Dr Kafeel Khan (@drkafeelkhan) November 11, 2021
The Allahabad High Court had even stayed the Uttar Pradesh government's decision of suspending Dr. Kafeel Khan, for the second time in 2019, for allegedly misbehaving with the staff at Bahraich District Hospital. Dr Khan had approached the Allahabad High Court challenging his suspension order on the ground that sufficient time had lapsed and the inquiry had not been concluded against him even after more than two years. He had also submitted that since he was already a suspended employee, there is no purpose of passing a second suspension order. Now, he says the government has sacked him.
Priyanka Gandhi Vadra, General Secretary, Indian National Congress has said this suspension is a part of a "hate agenda" and that her party will support Dr. Khan in his fight for justice.
उप्र सरकार द्वारा डॉ. कफील खान की बर्खास्तगी दुर्भावना से प्रेरित है। नफरती एजेंडा से प्रेरित सरकार उनको प्रताड़ित करने के लिए ये सब कर रही है।

लेकिन सरकार को ध्यान रखना चाहिए कि वो संविधान से ऊपर नहीं है। कांग्रेस पार्टी डॉ कफील की न्याय की लड़ाई में उनके साथ है और हमेशा रहेगी। pic.twitter.com/xidIyzv3sI

— Priyanka Gandhi Vadra (@priyankagandhi) November 11, 2021
Related:
Uttar Pradesh: Any neta taking notice of recent dengue, rain related deaths?
Allahabad HC stays second suspension order against Dr. Kafeel Khan
How the regime is hounding Human Rights Defender Dr. Kafeel Khan
Kafeel Khan's speech does not disclose any effort to promote hatred or violence: Allahabad HC
Supreme Court upholds Allahabad HC's order quashing Dr. Kafeel Khan's detention
Allahabad HC quashes case against Dr Kafeel Khan for anti-CAA speech
Dr. Kafeel Khan arrested in Mumbai for remarks at anti-CAA rally in AMU
The Tragic Hero Of Gorakhpur Hopital Tragedy: Full Text Of Dr Kafeel Khan's Letter