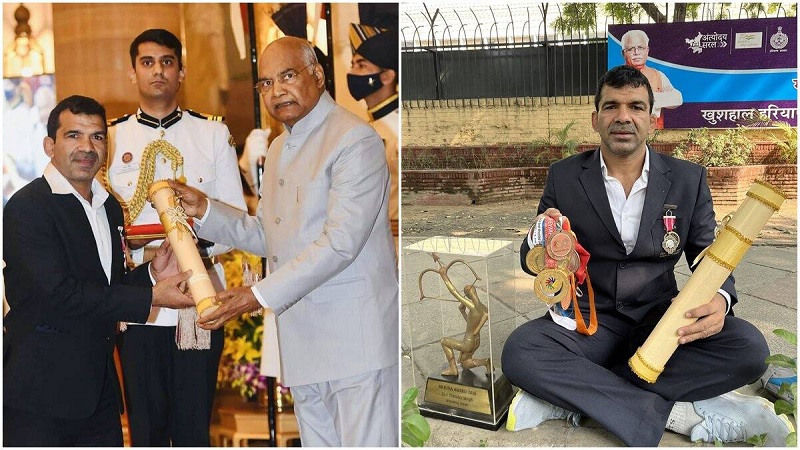 Image Courtesy:indianexpress.com
Wrestler Virender Singh Yadav was recently conferred the Padma Shri award for his achievement in sports. A deaf and mute athlete, he then went on to do something that may make a loud noise in the days to come, especially if the mainstream TV media reaches him soon.
Yadav, wearing his many hard earned medals, and holding the scroll containing his Padma award citation, is now sitting in protest outside Hayana Bhawan in Delhi. He took to Twitter to share the news that he will sit in protest till Haryana Chief Minister Manohar Lal Khattar recognises the state's hearing impared sports persons as para-athletes. Singh, who was born in Sasroli near Jhajjar in Haryana, cannot speak or hear, but has already made a brave and loud statement with his act of demanding the rights for others like him. He asked the Haryana CM, "Sir, I am sitting on the footpath of your residence Delhi Haryana Bhawan and I will not move from here till you will give equal rights to deaf players like para players, when the Center gives us equal rights then why not you?"
माननीय मुख्यमंत्री श्री @mlkhattar जी आपके आवास दिल्ली हरियाणा भवन के फुटपाथ पर बैठा हूँ और यहाँ से जब तक नहीं हटूँगा जब तक आप हम मूक-बधिर खिलाड़ियों को पैरा खिलाड़ियों के समान अधिकार नहीं देंगे, जब केंद्र हमें समान अधिकार देती है तो आप क्यों नहीं? @ANI pic.twitter.com/4cJv9WcyRG

— Virender Singh. (@GoongaPahalwan) November 10, 2021
Ironically Haryana Chief Minister Manohar Lal Khattar had taken to Twitter to congratulate Singh when he received the Padma Award a few days ago. Khattar had hailed Singh as a "son of Haryana and para wrestler" after he won the award.
यह समस्त प्रदेशवासियों के लिए गर्व की बात है कि हरियाणा के बेटे व फ्री-स्टाइल रेसलिंग के पैरा पहलवान श्री वीरेन्द्र सिंह जी को 'पद्मश्री' पुरस्कार से सम्मानित किया गया है। इस अवॉर्ड के लिए उन्हें हार्दिक बधाई एवं शुभकामनाएं। pic.twitter.com/wMcnbHE5Fb

— Manohar Lal (@mlkhattar) November 9, 2021
In the Deaflympics, Singh won three gold and a bronze medal in the 74 kg category and has now demanded that he wants the same rights, prize money and accolades as para athletes. He said, "For the past four years, I have been running from pillar to post. I am a junior coach even today and have not received any cash award," adding that he had also spoken to the Prime Minister yesterday, and that the decision was now for Khattar to take.
मुख्यमंत्री जी आप मुझे पैरा खिलाड़ी मानते है तो पैरा के समान अधिकार क्यों नहीं देते,पिछले चार वर्ष से दर-दर की ठोंकरे खा रहा हूँ मैं आज भी जूनियर कोच हूँ और न ही समान केश अवार्ड दिया गया, कल इस बारे मे मैंने प्रधानमंत्री श्री @narendramodi जी से बात की हैं अब फैसला आपको करना है! https://t.co/DC6UydM7AV

— Virender Singh. (@GoongaPahalwan) November 10, 2021
Singh, who is also known as the 'Goonga Pehelwan', received the Padma Shri from President Ram Nath Kovind at the Rashtrapati Bhavan on Tuesday. By Wednesday, Singh posted a photo of himself sitting on the footpath outside the Haryana Bhawan here holding on to the Padma Shri, with the Arjuna Award trophy and many other medals. Singh has hinted that he has been denied the rights accorded to Paralympic athletes. According to reports, the International Committee of Sports for the Deaf (ICSD) is the body which conducts sports events specifically for sportspersons who are only deaf. The Deaflympics, though recognised by the International Paralympic Committee, are not a part of the Paralympic Games. Hence the hearing impaired athletes do not get the same benefits that Paralumpians get in India as indicated by Singh.
Virender Singh won his first gold at the 2005 Deaflympics, where he had to spend ₹70,000 of his own, reported The Bridge. But as the win didn't bring any recognition he deserved. Virender had to resort to participating in village dangals to support himself.
Wrestler Virender Singh won his 1st gold at the 2005 Deaflympics, where he had to spend ₹70,000 of his own. But the win didn't bring the recognition he deserved.

Lacking support from the authorities, Virender had to resort to participating in village dangals to support himself. pic.twitter.com/82r9sfewf5

— The Bridge (@the_bridge_in) September 29, 2021
As reported by the Indian Express a few months ago, in 2007, the United Nations Convention on the Rights of Persons with Disabilities (UNCRPD) was ratified by India and pursuant to it the Rights of Persons with Disabilities Act, 2016 (RPD Act) was enacted. "Section 30 of the RPD Act elaborates on the measures that have to be undertaken to ensure sporting rights of Indians with disabilities. It mandates restructuring of courses and programmes to ensure access, inclusion and participation of persons with disabilities in sporting activities; redesigning infrastructure; developing technology to enhance potential and talent; allocation of funds, etc.," stated the news report. However, it added, "The Paralympic Committee of India, Special Olympics Bharat and the All-India Sports Council for the Deaf — have all failed in complying with the mandates of the National Sports Development Code of India, 2011." It is yet to be seen how CM Khattar responds to this public expose by Padma Shri Virender Singh.
Related
Haryana: Tensions rise between farmers and BJP leaders
BJP regime's words don't match actions: Farmers