Jharkhand is going to polls on April 29 in the fourth phase of the General Elections 2019. The constituencies that will be in the fray are Chatra, Lohardaga and Palmau Parliamentary Constituencies (PC).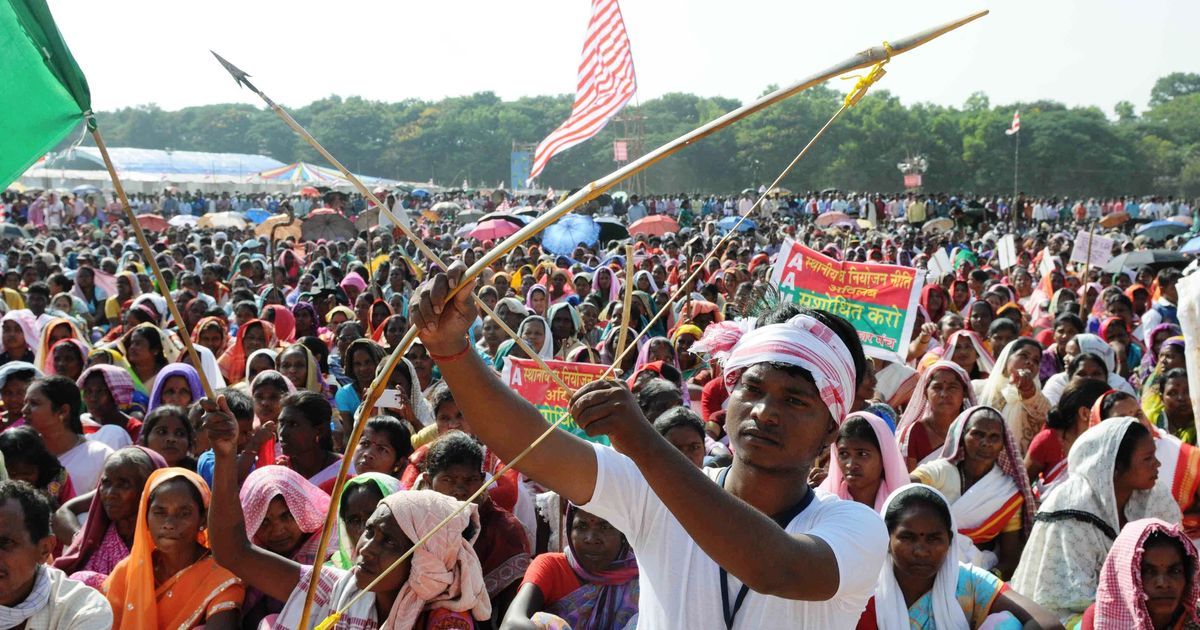 Jharkhand was formed as a separate state in 2000 and since then it has witnessed three LokSabha polls. The non-BJP parties performed well in 2004 when the Congress, Jharkhand MuktiMorcha (JMM) and RashtriyaJanata Dal (RJD) and the Communist Party of India together won 13 LS sears. However, in 2009, the BJP turned the tide by winning eight seats and by 2014 it had grabbed 41 percent of the vote share.Significantly, the BJP and its allies have lost six of the seven assembly bypolls held since December 2015.Five of the state's 14 seats are reserved for adivasis/tribalsthat make up (26.2 percent of the population).
Anti-incumbency sentiments have been building up against the state's current Chief Minister Raghubar Das. Especially, caused by the policies implemented by the government. Many of these policies have been termed as anti-people policies, especially the ones related to land acquisition and the dilution of land rights of the Adivasi people. The government also floated the anti-conversion bill in 2017, which was seen as a bid to divide Adivasis on religious lines.
In July, 2018, the Jharkhand police slapped 26 sedition cases against as many as 20 senior activists allegedly for publishing social media posts critical of the Raghubar Das-led BJP government and apparently for "playing a prominent role in Pathalgadi movement." These included activists Father Stan Swamy, former Congress MLA Theodore Kiro, and AlokaKujur. They were also charged with allegations of creating communal tension, violating IT Act, and cause law and order problems. The activists, at that time had rejected these as the scare tactic of the government. One of them, Kiro had said, "Jharkhand is facing an undeclared emergency. Here, the state government is targeting all those who do support its policies…At the centre of our struggle is the conflict over land." The Pathalgadi movement swept across the state with the residents of many villages in the state erecting traditional stone plaques with inscriptions of articles from Constitution, provisions of Panchayats (Extension to Scheduled Areas) Act, 1996 (PESA) and fifth schedule inscribed on them.
Moreover, noted economist working in the region, Jean Dreze along with other activists of the Right to Food movement were detained by Bishunpura police and a non-political meeting on issues of Right to Food they were addressing was stopped. The district administration claimed later that section 144 was in place in the district. But it is yet to share the copy of the notification. It seems it has become a practice to routinely apply section 144 as soon as model code of conduct comes into force.
Activists had expressed worry that "section 144 is being used to stop people from discussing their issues in non-political gatherings during elections." Though the Governor is supposed to be the custodian of tribal rights and is supposed to make decisions in consultation with the Tribes Advisory Council, however, Jharkhand having one of the largest tribal populations, does not so far have Tribal Affairs Ministry.
In the past couple of years the state has also witnessed a spate of hunger related deaths. SabrangIndia had reported how several poor people were denied rations saying their ration cards were 'fake', even though the Minister for Food Supplies gave a clear directive that not having an Aadhaar card can't be the basis of denying ration.
Moreover, the state has also witnessed a rise in incidents of lynching and communal violence, a phenomenon new to the state. Recently, in April this year, a Christian Adivasi man PrakashLakrawas lynched by a mob chanting 'Jai Shri Ram' and 'Jai Bajrang Bali' for an alleged incident of 'cow slaughter' in Jurmu village of Gumla'sDumri block. Three more persons sustained grievous injuries in this case.
In March, 2016 the Latehar lynching case had come to the surface in which cow vigilantes brutally beat up and hung 32 year old cattle trader Mazloom Ansari and his partner's 11 year old son Imtiaz Khan. Both of them died.
Is a closer finish on the cards?
On the constituencies set to begin the polls in Jharkhand, Chatra (PC No. 4) is a General seat, Lohardaga (PC No. 12) is a Scheduled Tribe (ST) seat andPalamau (PC No. 13) is a Scheduled Caste (SC) seat.
As per the data sourced from CEO (Jharkhand) website, there are a total of 45,26,693 electors in these three parliamentary constituencies, out of which 23,85,932 are male electors, 21,40,750 female electors and 11 third gender electors. There are 76,835 electors in the age group of 18-19 years in Phase IV in Jharkhand.
Currently, all the three constituencies are with the BharatiyaJanata Party (BJP).

While in Lohardaga, the fight will be between Congress and BJP and in Palamu, BJP and RJD, in Chatra the contest is going to be triangular with all the three parties fielding their candidates.
Chatra became the reason for RJD to walk out of the grand alliance as it wanted to field its candidate SubhashYadav, who is said to be a close confidant of LalaYadav, from the seat. SubhashYadav has some hold over the seat.

The areas of SanthalPargana and Palamu have demonstrated extraordinary levels of destitution and hardship. There are frequent dry spells as well as long history of primitive framework with abuse and fortified work. P. Sainath writes that in Palamu, even drought is a festival for the rich and elite sections.

The crops dry up soon as there is water scarcity resulting in large scale migrations. People hope that if this problem is resolved somehow, they will be able to sustain in a much better manner.
Chatra is an area rich in minerals. Though the people have demanded a connectivity with the railways, this hasn't been achieved still. The fact of it being rich in minerals has also led to questions of land acquisitions and irregularities and misappropriation in compensation amounts for the people. This too, remains a key question to be addressed. Moreover, unemployment and scarcity of water are key issues in Chatra.
In the Lohardga constituency, people have been waiting for a good market for their crops and vegetables. Despite the fact that this has been a traditional seat for Congress, with Adivasi stalwarts KartikOraon and SumatiOraon, Congress has not been able to win this seat in a decade. BJP's SudarshanBhagat Singh is the sitting MP from this seat. However, both sides have no answers to the questions of the farmers. Every year, vegetables such as tomatoes and chickpeas worth crores need to be destroyed in the absence of cold storage and a good market connectivity. Though, Gumla which comes under this constituency is a Zilla headquarter, it has yet not been connected to railways.

Constituencies going for election in the opening round of LS polls for Jharkhand
1.ChatraLokSabha Constituency has a total of 13,12,545 electors and comprises of
Chatra (SC), Simaria (SC), Latehar (SC), Panki, Manika (ST).

In the past, RJD candidate DhirendraAgarwal won the 2004 election, beating JD(U)'s Inder Singh Namdhari by more than 18,000 votes. However, Namdhari made his comeback as an independent candidate in 2009 Congress' Dhiraj Prasad Sahu. The BJP finally came to power in 2014, when Sunil Kumar Singh won the seat, leaving Sahu high and dry.

ChatraLokSabha Constituency
The Chatra parliamentary constituency is spread across Chatra district and parts of Latehar and Palamu. Chatra district is spread across 3706 square kilometres and has a population of 10.42 lakh as per Census 2011. It has a sex ratio of 951 females for every 1,000 males and a literacy rate of 60.18 percent. It is a Hindu-majority district with 9.03 lakh people following the religion. Almost 90 percent of the population depends on agriculture in the district. Latehar district has a population of 3.70 lakh people, as per the latest Census. Its literacy rate is 59.51 percent. It is a predominantly tribal district with more than 66 percent of the population comprising SCs and STs. It is the richest district in terms of forest resources. Located in the northwestern part of the state, Palamu has a population of nearly 19.4 lakh people and a literacy rate of 63.63 percent, as per Census 2011.

2. LohardargaLokSabha Constituency has total number of 11,19,144 electors.
Assembly constituencies: Mandar (ST), Sisai (ST), Gumla (ST), Bishunpur (ST), Lohardaga (ST)

The seat has been a BJP stronghold for the last decade. In 2004, Congress candidate RameshwarOraon won the seat with a winning margin of 19.35 percent votes. Since 2009, BJP's SudarshanBhagat has held the seat. He is the Minister of State for Tribal Affairs in the NarendraModi government at the Centre. This reserved constituency covers the entire Gumla and Lohardaga districts and parts of Ranchi district.

Part of the South Chotanagpur division, Gumla district has a population of nearly 10.3 lakh people, according to the 2011 Census. Both Lohardaga and Gumla districts come under the Backward Region Grants Fund Programme. The region is rich in minerals such as bauxite, aluminium, iron oxide and manganese dioxide. Lohardaga district has a population of 4.62 lakh people, of which 56.89 percent are Scheduled Tribes, according to the 2011 Census. Its literacy rate stands at 67.61 percent.

3. PalamuLokSabha Constituency has total number of 16,45,957 electors.
The Assembly constituencies falling under this constituency are Daltonganj, Garhwa, Bhawanathpur, Bishrampur, Chhatarpur (SC), Hussainabad.

This parliamentary constituency has seen members of three different parties in power over the last 15 years. In 2004, RJD leader Manoj Kumar became the MP. He was succeeded by JMM candidate KameshwarBaitha in 2009, who defeated RJD's Ghuran Ram. In 2014, the BJP came to power with Vishnu Dayal Ram as the MP with a winning margin of 27.01 percent votes, while RJD's Kumar came a distant second.

The constituency covers the entire Garhwa district and parts of Palamu district. The constituency is part of the Red Corridor and is affected by Left-Wing Extremism. Garhwa district has a population of 13.23 lakh people, where 24.19 percent of the population belongs to Scheduled Castes. It also receives funding under the Backward Regions Grant Programme. Most of the population in the district reside in rural areas. Its literacy rate stands at 60.33 percent. Palamu also receives funding from the Backward Regions Grant Programme. The constituency is impacted by Maoist insurgency.