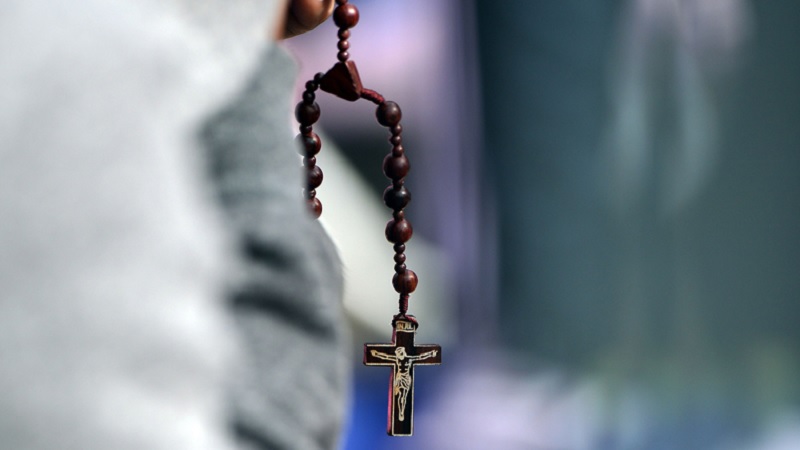 Image Courtesy:theweek.in
Karnataka's legislative committee on backward classes and minority welfare is likely to soon launch its "survey of churches". This, according to reports, is being done by the Bharatiya Janata Party (BJP) led government that wants to identify "unauthorised" churches and to "check forced religious conversions". However, even though all signs point towards it, most of the media is yet to announce that this is the first on-ground move that is likely to lead to a "tough anti-conversion law" in the state. After the 'survey', a report will be tabled before the Legislature Committee on the Welfare of Backward Classes and Minorities.
This in turn has empowered Hindutva organisations whose members seem to have increased their "raids" at churches, barged into prayer halls, roughed up preachers and congregations all the while claiming to have discovered "forced conversion". Many such cases have been reported from across Karnataka in October alone.
A few days ago, Karnataka Chief Minister Basavaraj Bommai said that the "anti-religious conversion laws" that are already in place in BJP-ruled Uttar Pradesh, Himachal Pradesh, Madhya Pradesh, and Gujarat, "will be studied to formulate a strong legislation in Karnataka." The CM told the media that "a strong law will be brought into effect soon." The state has a stringent anti-cow slaughter ban in place since February, 2021.
The Archbishop of Bengaluru had warned of vigilante attacks if Karnataka's Backward & Minority Welfare Department begins the survey of "Christian missionaries and places of worship". His concerns have fallen on deaf ears. Now, deputy commissioners of districts have been instructed to conduct the 'christian' survey, reported the media quoting Gootihalli Shekar, BJP MLA from Hosadurga, who chaired the legislative committee meeting on October 13. The MLA has claimed that "forced conversions"are "rampant in some parts of Karnataka", including in his home district of Chitradurga.
According to a report in the Hindu, records of the backward classes and minorities affairs, home, revenue and law departments, state that there "are about 1,790 churches in the state," now the legislative committee wants officials to find out how many of them are "illegal". The committee has claimed, there have been "36 forced conversions cases" registered in the state recently. MLA Shekar told the media, "The menace of forced conversion is so rampant that the perpetrators are even converting residences into churches and Bible society. We need to find out the number of such establishments and unauthorised Christian priests and take action against them."
This is how Christians are being targeted by right-wing groups in Karnataka this month
Singing Hindu bhajans in church as "protest"
Men belonging to Bajrang Dal and Vishwa Hindu Parishad (VHP) sat down and sung Hindu bhajans in the Bairidevarkoppa church in Hubli, and alleged that the church authorities were "conducting forced religious conversions". The Church has said no conversions were taking place. The group of men all belonging to right wing groups, allegedly forced their way into the church on Sunday morning. They sat at the back of the church, without masks and sang a bhajan, rather repeating the chant "Sri Ram jai Ram jai jai Ram". The men were reportedly claiming this was their way of 'protest' and they alleged that there were forced religious conversions taking place there. The video clip of the incident showed that there were dozens of other women and men sitting inside the church at the time. The local MLA Arvind Bellad of the Bharatiya Janata Party, reportedly blocked a highway demanding the arrest of pastor Somu Avaradhi.
College forced to cancel naming park after Stan Swamy
The right-wing sees no wrong in continuing to target and vilify the name of Jesuit priest and tribal rights activist Stan Swamy even after his death. A proposal to name a park inside the St Aloysius (autonomous) College campus in Mangaluru 'angered' the right-wing so much that they created a major hate campaign that forced the college to call off the event. The St Aloysius Institute of Management and IT, Kotekar, Mangaluru, had planned to inaugurate the "Fr Stan Swamy Peace Park" and a 150KV rooftop solar project at 10 A.M on October 7, announced that the event had been "cancelled". Members of Akhil Bharatiya Vidyarthi Parishad (ABVP) submitted a memorandum to Mangaluru deputy commissioner K.V. Rajendra, police commissioner and the college management, to oppose the park's proposed name. The ABVP said plans to name the park after Stan Swamy was "an indirect attack on the national unity."
Archbishop of Bengaluru reacted strongly
The Archbishop of Bengaluru recently reacted strongly to the reports of Karnataka's Backward & Minority Welfare Department's proposed survey of "Christian missionaries and places of worship". The Church leader wrote, "We are sad that the Hon'ble Chief Minister, Shri Basavaraj Bommai, whom we regard highly as a broad-minded and enlightened person, succumbs to pressures from fundamentalist groups, who wish to indulge in disturbing the peace, harmony and peaceful co-existence in society." The Archbishop said that the proposed survey of the Christian missionaries and places of worship was a "futile and unnecessary" exercise "no good will come out of it". He reminded the authorities that "in the background of the conversion bogey and anti-religious feelings that are being whipped up, it is dangerous to make such surveys. With this our community places of worship as also pastors and sisters will be identified and may be unfairly targeted. We are already hearing of such sporadic incidents in the north and in Karnataka already."
Related:
Survey of Karnataka's Christian missionaries and places of worship, a dangerous exercise: Archbishop
Karnataka: CM Bommai normalising 'moral policing', gets schooled by ex-CM Siddaramaiah
Hate Watch: Was Sri Rama Sena Hindustan member allegedly paid Rs 5 lakh to kill
Mangaluru: Protests by Hindutva groups force College to cancel naming park after
K'taka: Right-wing goons forcibly shut down meat shops; vandalise Muslim couple's chicken shop
Hate Watch: Right-Wing group sing bhajans in Karnataka church as "protest"