An efficient minister in Nehru and Indira's cabinets, Jagjivan Ram left the Congress to join the Janata Party during the emergency and blamed 'entrenched caste interests' (Sanjiva Reddy was then President, 1979) to not call him to muster up a majority when Chaudhary Charan Singh failed to hold the Janata combine together. Nominating his daughter, Meira Kumar, an accomplished politician to the post of President would right a historical omission, if not a wrong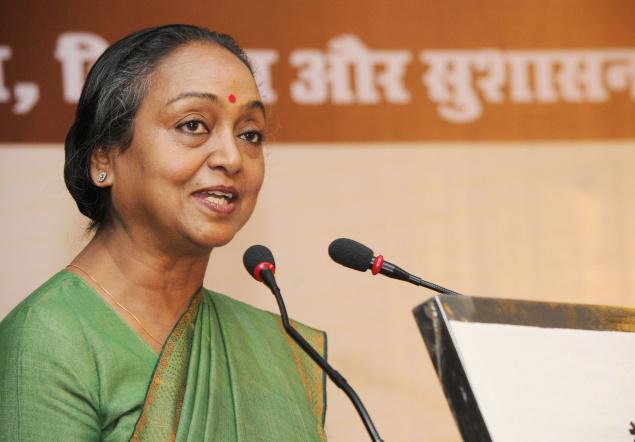 At 72, she is a woman and a Dalit. Daughter of former deputy prime minister of India, Jagjivan Ram, also a freedom fighter against the British, she is five times elected member of Parliament, being elected to the 8th,11th, 12th, 14th and 15th Lok Sabhas. She was Minister of Social Justice and Empowerment from 2004-2009 and then from 2009 to 2014 she became the first woman and Dalit Speaker of the lower house of Parliament. A lawyer and qualified bureaucrat from the Indian Foreign Service, Meira Kumar's nomination could well be a return coup by the Opposition for the candidature of President.
Most of all, nominating Meira Kumar for President would correct a historical injustice, perceived to be inflicted on her distinguished father, Jagjivan Ram, an efficient minister in Indira Gandhi's cabinet but who did not make it to the highest post.
Will Meira Kumar's name as the united Opposition's candidate, after the meeting on July 22, beat the BJP-led NDA at it's own game?
Meira Kumar's inspired Welcome Address to then USA's President Barack H. Obama on February 28, 2013 was befitting of the occasion. Obama's victory and leadership as the USA's first black president was mentioned in eloquent terms by India's first woman Speaker of the Lok Sabha, also a Dalit. She spoke of the 'power of people', of the 'diversity of religions and ideas and that India represents.' She spoke of India's respect for all persons regardless of faith and belief, and how Gandhi expressed this 'oneness of human beings in modern paradigms.' She addressed Barack Obama directly, 'Your journey to the office of President of US" revived people's hope in a just world order, especially the disinherited ones.'
In 2013, it was Barack Obama in the USA and an India represented by Meira Kumar as it's Speaker who spoke of the two great democracies and the need to 'strengthen the edifice of global peace. Quoting from the inspirational Martin Luther King, she had said, "Sooner or later, all the people of the world will have to discover a way to live, in peace." Today, the USA is led by Donald Trump and India is represented by Narendra Modi.


Righting a Wrong
On July 7, 1986, Sanjoy Hazorika wrote on Jagjivan Ram's death at 78, in the New York Times, "In the course a political career that spanned more than 50 years, Mr. Ram, an ally of Mohandas K. Gandhi in India's fight for independence, held almost every important Cabinet post except the Prime Ministry. …His bids to become prime minister failed in 1977 and 1979, and Mr. Ram and his supporters later blamed high-caste Hindu politicians for blocking his chances, saying that they wanted to prevent an untouchable, from the lowest rung in the country's outlawed but ubiquitous caste system, from becoming India's top leader."
A biography of the former union minister Jagjivan Ram released in 2010 has claimed that the late prime minister Indira Gandhi used the Dalit leader as a "bali ka bakra" (scapegoat) during the Emergency in an attempt to remove any possible challenge to her leadership. The biography in Hindi, Babu Jagjivan Ram: Ek Jivani, was authored by by writer Mangalmurti. It was released in 2010 by then Union Human Resource Development Minister Kapil Sibal in the presence of Jagjivan Ram's daughter, Lok Sabha Speaker Meira Kumar. Meira Kumarhas also written a blurb for the book.
According to the biography, while Jagjivan Ram was used by the Congress and the government for his popularity and competence, he was never given any position of eminence because the "prime minister's chair was deemed to be the birthright of uchchavargiya (high-class) leaders only". "It is clear from Indiraji's continuing distrust in him that… Jagjivan Babu's popularity, political diplomacy (kootnitigyata) and competence was always taken advantage of by the party and the government. But when the question of giving him a position of eminence came, he was always pushed behind — probably because he hailed from the most neglected, deprived community while the prime minister's chair was deemed to be the birthright of uchchavargiya leaders only," it says.
"Along with Indiraji, Jagjivan Ram was the most senior and competent leader, who was the most eligible for the post of prime minister also… The biggest threat was from none other than Jagjivan Ram and therefore, he was considered the biggest scapegoat to move the resolution on Emergency," says the biography (page 188).
When Meira Kumar first entered electoral politics in 1985, she was elected to the Lok Sabha from Bijnor in Uttar Pradesh defeating political heavyweights like Ram Vilas Paswan and Mayawati. In 2014, in the wake of the Modi wave, she however lost to Chhedi Paswan of the BJP, from the Sasaram constituency, by over 63,000 votes.