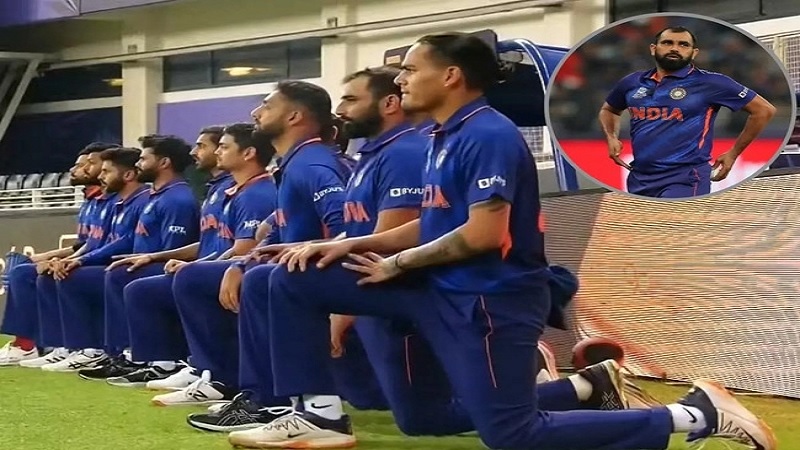 Image Courtesy:economictimes.indiatimes.com
It is time that the Indian cricket team walks the talk on its stand against discrimination and abuse. While it was commendable for the team to take a knee to support the Black Lives Matter (BLM) movement, it is time Team India also stands up, and speaks up loudly against the massive verbal and emotional abuse being inflicted by bullies and trolls upon their Indian Muslim teammate Mohammad Shami.
Shami was targeted after Team India lost to Pakistan on Sunday. As a Muslim, he was accused of everything under the sun including 'selling out' to a Muslim dominated team. Shami, a proud Indian, has often been trolled for his religion, but sadly, Team India's non-Muslim players are yet to stand up for their Muslim teammate.
Interestingly, Team India did take a knee in support of the Black Lives Matter movement. The Indian players took a knee before their – T20 World Cup 2021 Super 12 match against Pakistan in Dubai on Sunday. Both teams expressed their support against racism, and Pakistan players had their hands on heart as team India took the knee. According to news reports Team India opener Rohit Sharma and Pakistan captain Babar Azam had spoke before the match and agreed on showcasing the gesture against discrimination. It was reported that Team India captain Virat Kohli along with others like Hardik Pandya and Suryakumar Yadav took a knee outside the boundary rope.
However, as soon as team India was defeated by Pakistan in the final Hindutva trolls were out in droves to hurl a volley of abuse at the Indian team's only Muslim player, Mohammad Shami.
Shami BSDK??

— Yashiii? (@Yashi_tweets) October 24, 2021
Trolls accused him of taking a bribe from the Pakistan team to lose the match. The Islamophobic attack left true cricket fans stunned and many hoped skipper Virat Kohli would speak up against the vile attacks and express solidarity in support of Shami. Kohli is no stranger to being trolled and it was thought he would speak up after India's massive defeat at the hands of an arch-rival was used as fodder for Hindutva trolls. Shami, was called "Bloody Pakistani in Team India", some raised questions like, "A Muslim sided with Pakistan. How much money did you receive?… how much money did you receive to help your community (Muslims) win?"
— Mishti//Prithu Stan Account (@saffronjedi) October 24, 2021
Sanghis have started abusing Md. Shami after the loss.

After the racist attacks against few English players at Euro, the team came in support of them.

India's hockey skipper Rani Rampal criticized casteist remarks against a teammate.

Your move, @imVkohli and everyone else. pic.twitter.com/38Rx1BaA52

— Abhishek Baxi (@baxiabhishek) October 24, 2021
Being told that 4 Kashmiri students sustained injuries after thrashed in Bhai Gurdas Institute of engineering and Technology in Punjab. @CHARANJITCHANNI @islahmufti @capt_amarinder @officeofssbadal @DGPPunjabPolice @sherryontopp

— Nasir Khuehami (ناصر کہویہامی) (@NasirKhuehami) October 24, 2021
Mohd Shami himself, has always gone the extra mile to 'prove' his patriotism.
Today is a day to feel proud about being a part of this great nation. May this spirit of freedom leads us all to success and glory in life. Happy Independence Day! #mdshami11 #aairahshami17 #indiaIndependenceday pic.twitter.com/ChGgze3lSw

— Mohammad Shami (@MdShami11) August 15, 2021
No questions were asked of Jay Shah
As expected, no questions were asked after Team Pakistan defeated Team India, from Jay Shah, the Honorary Secretary of Board of Control for Cricket in India. The governing body for cricket in India is under the jurisdiction of the Ministry of Youth Affairs and Sports, Government of India. He is also president of Asian Cricket Council, and is the son of Union Home Minister Amit Shah. It was just another day at the office for him.
Time to reflect and come back stronger ?#TeamIndia #T20WorldCup pic.twitter.com/ZGvkQAMASy

— BCCI (@BCCI) October 24, 2021
Akshay Kumar is sitting next to Jay Shah and enjoying the India-Pak match in Dubai.

And, Indians expect him to speak on record-high fuel prices!??‍♂️ pic.twitter.com/VnABVC7Sbb

— Siddharth (@ethicalsid) October 24, 2021
Is Captain Kohli in silent mode now?
Speaking after the match, Kohli spoke about why, for the first time, the Indian cricket team took a knee before a cricket game, reported the Scroll. "That was communicated to us by the management. The Pakistan team agreed to pay their tribute towards the same cause, and then we accepted our side of things, as well," said Kohli. He added that Pakistan won because "they were very professional. You have to give them credit, we tried our best. We tried to create enough pressure but they had the answers. No shame in accepting that a team played better than you."
It is not yet known if he has spoken up for Mohd. Shami yet. Kohli's own social media is often filled with troll's outrage around this season. Recently he teamed with Pinterest, and shared a video on his official Twitter account about sharing "tips on how to enjoy a meaningful Diwali with family and friends." Trolls have been taunting him saying they don't need tips on Hindu festivals.
Over the next few weeks, I'll be sharing a series of my personal tips for celebrating a meaningful Diwali with loved ones and family. Stay tuned by following my Pinterest profile 'viratkohli' – link in bio ?@Pinterest#diwali2021 #AD pic.twitter.com/KKFxyK3UTG

— Virat Kohli (@imVkohli) October 17, 2021
Related:
Aamir Khan: Surviving in the regime's crosshairs
BJP MP says Aamir Khan's CEAT Tyres Diwali ad hurts Hindu sentiments
Jashn-e-trolling: What does the festive season mean for bhakts?