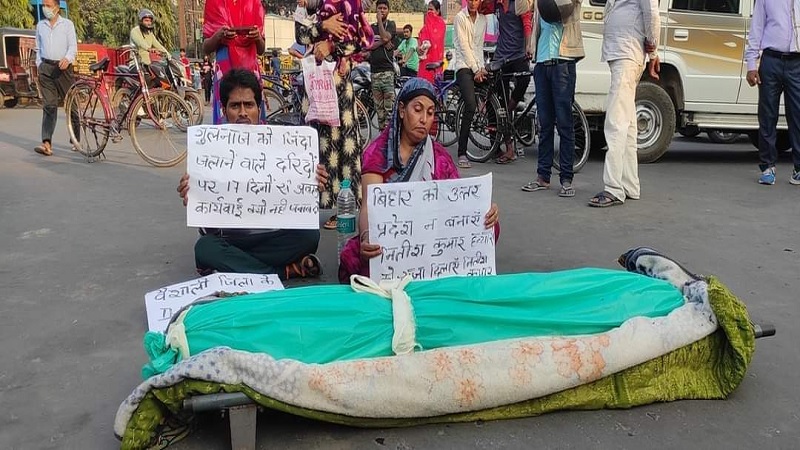 Image Courtesy:Twitter
"She was to be married off in just four months. But Satish Kumar Rai, son of Vinay Rai, and Chandan Kumar Rai, son of Vijay Rai, burnt my daughter to death in Vaishali. She herself said so in a video before she died. We have nobody to speak for us," says Gulnaz's mother who has cried her eyes dry and is bravely trying to speak up to seek justice for her daughter. The young woman, identified as 20-year-old Gulnaz Khatoon succumbed to her massive burn injuries, over two weeks after she was doused with kerosene and set on fire by men who had been threatening, and allegedly stalking her. "She had objected to the sexual harassment and stalking they had been subjecting her to for three months," said Gulshan Parvez, the victim's younger sister also named Chandan Kumar Rai and Satish Kumar Rai. "When my sister used to go and dump garbage these men would harass her. On October 30 at 5 PM, Chandan Kumar and Satish Kumar poured kerosene on her and set her ablaze," added her brother who said he worked in Patna.
Gulnaz used to help her mother, a tailor, and was soon to be married. The men who attacked and murdered her, and were named clearly by the victim and her family, have not been arrested yet. Even as #JusticeForGulnaz continues to trend online, and videos of Gulnaz's mother, sitting on the road with her body on a bier continue to be shared, there is no word yet from Bihar's re-elected Chief Minister Nitish Kumar, or the Bihar Police. The victim, herself is seen on a video naming her attackers, before she succumbed to her injuries. "They had told her they would kill her, they doused her with kerosene and lit a match," said her mother.
नीतीश के सीएम सपथ से पहले ही गुंडे और बदमाशों ने प्रोग्रेस कार्ड दिखाना स्टार्ट कर दिए हैं। सतीश कुमार और उनके दोस्तों ने जो जघन्य अपराध किए हैं, क्या इस से मुस्लिम समाज डरा, सहमा महसूस नहीं कर रहा है? –@ProfNoorul #JusticeForGulnaz pic.twitter.com/oSnPBeY0tp

— MOHD SHAMSHAD (@Shamshad0289) November 16, 2020
The young Muslim woman from Bihar's Vaishali district was attacked and literally burnt alive by the men she has named. The videos of the grieving parents sitting on the street protesting on Sunday are heartbreaking. So far, they seem to have only found support in a few concerned citizens. According to a report by ABP news online, the attack was in village Chandpuram under Desari police station in Vaishali district. The men accused of the sexual harassment, and the attack on the 20-year-old girl, carry caste names of the dominant community.
The news report added that after she was attacked Gulnaz's family admitted her to PMCH in Patna. She had suffered massive burns and died during treatment 15 days later. According to the ABP news report the accused is Satish Yadav, a known goon of the village who used to molest the girl. When she complained Satish and his two companions caught Gulnaz near the house and burnt her alive. In a video message a dying Gulnaz gave her statement.
WARNING: The video is graphic and may be disturbing to watch. However, it may be a crucial piece of evidence to get justice for the victim and her family.
Video Gulnaz told the truth before he died

Love Jihad was screaming that the Chillar Party would now be silenced as the Hindus who killed Gulnaz are#JusticeForGulnaz pic.twitter.com/rZIqiMshp5

— Saziya 2.0? ? (@Saziyakh) November 16, 2020
The young woman had even made a video statement speaking through her excruciating pain, soon after she was attacked and was being taken to hospital by her family. "They had been saying they would kill me for days. I had told them not to stand here [stalk], they said we have bought the road, they poured kerosene on me and lit a match," she said adding, "He is Vinay Rai's son."
Meanwhile, on social media, citizens have begun calling out the hypocrisy of those who turn such crimes into examples of so-called 'love jhad' if the accused is a Muslim. Not many are saying such things in thie case where the victim is a young Muslim girl from a poor family, and the accused are from a dominant caste.
#JusticeForGulnaz@NitishKumar @ndtvindia @ZeeBiharNews pic.twitter.com/FqPd40XLkL

— Aphtarul Alam (@aphtarul) November 16, 2020
A few have questioned the role of the local police here too, much like the Hathras case. According to the news report, the police got information about soon after the attack and reached the hospital. Even though they reportedly met the victim and registered her statement, the police did not register an FIR in the case. It was only after the video of the victim giving her statement in hospital went viral, after four days, the police registered an FIR stating the report. As stated earlier, the girl is now dead, 15 days after the incident, and no arrests have been made by the police.
Be it Haryana or Bihar girls are not safe anywhere, Gulnaz's mother is taking the names of culprits, Victim has given her statement and as per media media reports named the same set of people. @BiharpoliceHq is waiting for what?#JusticeForGulnaz pic.twitter.com/ec0HFQhVPl

— Shikha Gautam (@ishikhagautam) November 16, 2020
This happened in Vaishali, Bihar.

A girl named Gulnaz was molested by Satish Kumar and his friends, when she resisted, they burnt her alive by pouring Kerosene.

Victim's family demanding justice but no one listening them even after 2 weeks.#JusticeForGulnaz pic.twitter.com/Yf4yWTECmO

— Md Asif Khan‏‎‎‎‎‎‎ (@imMAK02) November 16, 2020
A Girl named Gulnaz has been rãped and burnt alive, later her bõdy was dumped in a well

The accused Chandan Kumar & Satish Kumar are yet to be ârrested by Bihar Police

Even if they are årrested after outrage, expecting a water tight case would be fo0lishness#JusticeForGulnaz pic.twitter.com/Ts3z9iOT68

— Amir Khushroo (@mr_rebel_amir) November 16, 2020
Let's trend this #JusticeForGulnaz she deserves justice ,she needs a voice , she needs everyone to speak up for her ! Let's do this ! Trend it as much as u can #JusticeForGulnaz pic.twitter.com/bJj9QZTU3E

— Ananya Patnaik (@AnanyaPatnaik6) November 16, 2020
Related:
Ram naam satya hai: Adityanath's open threat to those who attempt 'love jihad'
Cases against legislators: SC asks trial courts to grant witness protection without
CJP moves Supreme Court in Hathras case
Hathras rape a case of Caste Supremacist Atrocity: AIPWA
Hathras Dalit girl rape: Why are Smriti Irani, PM Modi, UP CM Adityanath quiet?
It has shocked our conscience: Allahabad HC takes cognisance of Hathras incident