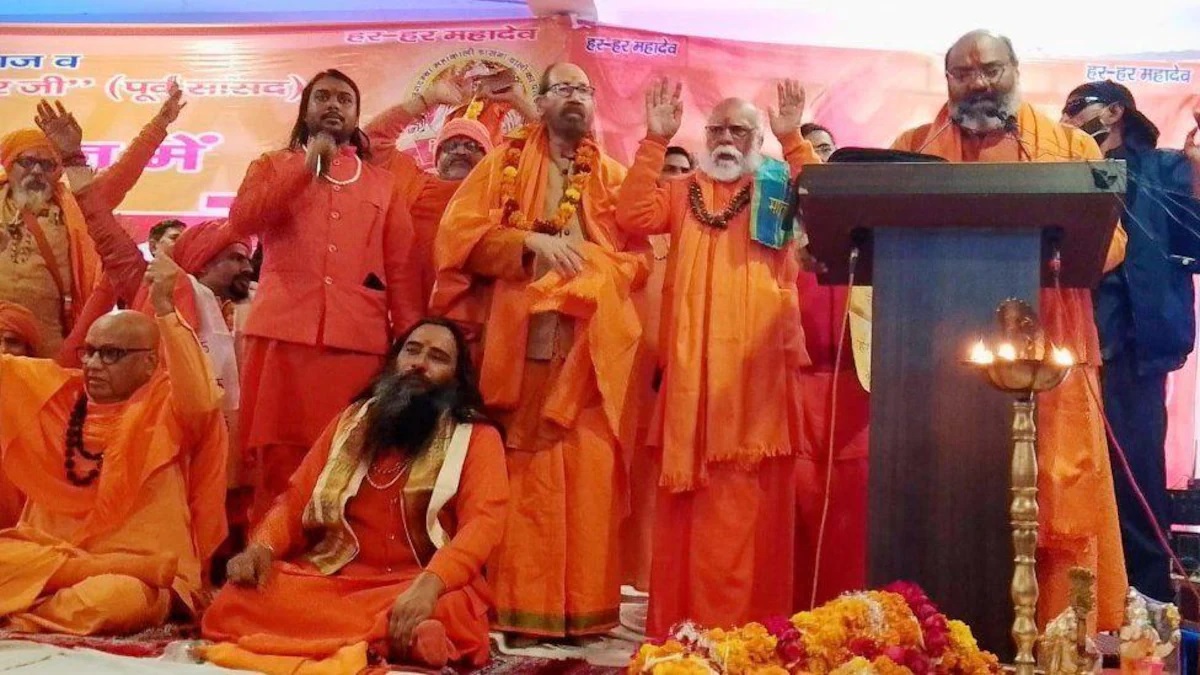 Roorkee, Uttarakhand, has put itself on the communal hate map of the world, and kept India under the hate watch spotlight. A right-wing group, Hindu Raksha Vahini, has now threatened it will hold a 'Dharm Sansad' in the state if homes of Muslims they accuse of being involved in communal violence are "not destroyed by Bulldozer".
Borrowing its inspiration from the governments of Uttar Pradesh and Madhya Pradesh where authorities used bulldozers to raze dwellings of the poor, especially Muslims, the right-wing group wants Uttarakhand to do the same. Meanwhile, a 'Dharam Sansad' though meant to be an aseebly of religious leaders, has now morped into a hate conclave and a stage from where anti-minority, especially anti-Muslim calls have ben given. The hate from the one held in the state last year is still reportedly fuelling communal attacks across the country.
Following the pattern of communal clashes during a Hanuman Jayanti procession on Saturday, Roorkee, like many other parts of India, has been on tenterhooks. On Monday, according to news reports, two more men were arrested and accused of being involved in a communal clash in Dada Jalalpur village. According to news reports now around 15 arrests have been made. According to a report in Times of India, Circle officer of Manglaur police, Pankaj Gairola, said, "The situation in the village is peaceful and under control. However, over 100 police personnel are still deployed in the area to maintain law and order."
The Hanuman Jayanti procession from Hasanpur village to Dada Jalalpur village, Haridwar began on Saturday evening. When the procession crossed a mosque in Jalalpur village, there were reportedly objections raised against a "song that was playing on a loudspeaker" being used by the procession. This reportedly led to clashes and stone pelting at each other and destroying public property. One car, two motorcycles, and a hut were set on fire. At least 10 people, including a police sub-inspector, were injured in the clash stated news reports, adding that police have registered a complaint from a member of the procession against 12 "identified" people and 40 "unidentified" people under IPC sections 147 (rioting), 148 (rioting with deadly weapons), 149 (unlawful assembly for a common cause), 323 (voluntarily causing hurt), 336 (any rushed act endangering human life and safety), 153-A (promoting enmity between two religions), and 295-A (deliberate acts intended to outrage religious feelings).
However, as social media users have pointed out it was purportedly at 2 AM, that the Hanuman Jayanti procession or Shobha Yatra was taken out. Songs with words like "Mulla Pakistani" were played by processionists carrying swords, and lathis, reportedly in the presence of DM, DIG and heavy police deployment. The FIR was filed by the police on Sunday morning, naming 12 people and 40 unknown people.
At 2AM, they took the hanuman jayanti shobhayatra in the presence of DM, DIG and heavy police force present. Swords, lathis, slogans and songs like "Mulla Pakistani" were being played. pic.twitter.com/FNundn0n26

— Satyam Tiwari (@BBauuaa) April 17, 2022
"Jab aughad daani raudr roop dikhlayega,
tu kya tera baap bhi raam naam chillayega" song being played and Hindus dancing on it. pic.twitter.com/6Gy8YG6VZ8

— Satyam Tiwari (@BBauuaa) April 19, 2022
Now the Hindu Raksha Vahini, has demanded the demolition of Muslim homes. According to news reports, by Sunday afternoon, four bulldozers were parked in the Muslim dominated village and "police have 'threatened' those who are named in the FIR to surrender or else their houses will be destroyed like in Khargone." The economically weak Muslims of the area have told journalists they are heartbroken, and scared "what is our fault, tell me… my heart is suffering" cried an old man.
"Hamara mann tadap gaya hai bahut… Bataie hamari kya galati hai. Agar kuch galati ho to baat bhi ho," the 70-year-old Abuzar (name changed) said. His house in #Roorkee was vandalised by the Hindu mob on Sat. His family has left the village, he stays behind to tend to his animals pic.twitter.com/b4WLCaGruw

— Nikita Jain (@nikita_jain15) April 19, 2022
According to a report in NewsClick there is a clear demarcation between 'Hindu' and 'Muslim' areas here. The Hindu area "is marked with saffron flags and has a temple at its centre," and the Muslim area "is in the interior and surrounds a mosque" Though there are an almost equal number of Hindus and Muslims, in the area and it is also home to members of the Other Backward Class (OBC) Hindu community, the Sainis are dominant, according to the report.
What is most disturbing is that over the past few days, many journalists on the ground have reported that a large number of Muslim residents have fled the village in fear. Hindutva leaders have not only warned of "action against conspirators", including bulldozing their houses, a call has been for a Hindutva led protest today, April 20.
According to a ground report from TV9, after budozers were put outside the Muslim area, residents were reportedly asked to "surrender themselves". However, the report added that the Senior Superintendent of Police Yogendra Singh Yadav stated that no houses will be bulldozed. There is no explanation why the bulldozers need to be there in the first place. It is also not known yet if Hindutva leaders like Dineshanand Bharti, who belongs to the outfit named Kali Sena, and was reportedly heard giving an ultimatum to the administration to arrest "stone pelters" have been taken to task yet. News reports quoted locals like one Naveen Saini, affiliated with the Rashtriya Swayamsevak Sangh (RSS), saying Muslims are "jihadis, conspiring against us Hindus, it is sad to see that they eat here, but they talk of tearing the nation apart."
According to The Wire, Muslim residents said their homes were pelted with stones. They alleged that the mobs looted and vandalised their homes as well as injured many. However, according to the news report, a team of Superintendent of Police (Rural) Premendra Dobal reached the spot soon after the violence broke out and arrested six Muslim men. Hindu residents told the media that after the violence, was controlled late at night, "the crowds led by BJP leader Bhagwan Saini insisted that the procession be allowed to continue. Permission was allegedly granted in those early hours itself."
VIDEOS OF LATE NIGHT SHOBHAYATRA IN dada jalalpur village in #roorkee
This was when muslims were arrested, stones were pelted from both sides and hindus repeated the Shobhayatra at around 1AM.
Hanuman Chalisa Chanting on. pic.twitter.com/sO52XqmC62

— Satyam Tiwari (@BBauuaa) April 19, 2022
Hate speech continues unchecked
'Monk' Dineshanand Bharti of Kali Sena calls Muslims 'modern day demons', and demands that they be arrested. He reportedly came to Dada Jalalpur on April 18, and has threatened to protest outside the SDM office today, on April 20.
Yet another monk Dineshanand Bharti of #KaliSena calls for arrests of muslims, abuses them and says muslims are "modern day rakshas"
Dineshanand came to Dada Jalalpur 18th april, they will now do the SDM office dharna on 20th apr Wednesday. pic.twitter.com/oxl3NJCkqx

— Satyam Tiwari (@BBauuaa) April 19, 2022
Prabodhanand Giri, and his associate Yatindranath, also called for destruction of muslim houses in Roorkee. "Haridwar distcit is coming in the grip of Islamic Jihad," he claimed. Giri has also accused that "Muslims are Jihadis" and repeated the call for violence against Muslims that had been given at the Haridwar hate conclave.
BIG BREAKING : Communal violence broke out in #Roorkee during #hanumanJayanti #shobhayatra. Hindu Raksha Vahini threatens Dharm Sansad in 2 days, if muslim homes are not destroyed by Bulldozer. @Newsclick pic.twitter.com/EH6QJl26Or

— Satyam Tiwari (@BBauuaa) April 17, 2022
"Every Mu$|!m is a threat to peace & has become a mad Jihadi. I'm not afraid of court cases, I'll repeat what I said in Haridwar (Myanmar like Ethnic cleansing). We've to wipe out the J!hadis. We have to work 4 this."
Prabodanand's speech on 10th April pic.twitter.com/bLuOWvdvsJ

— Mohammed Zubair (@zoo_bear) April 18, 2022
Related:
Social media platforms finally compel extremist groups to shun hate speech, fake news
How will Delhi Police respond to VHP's threat?
Karnataka: Court directs FIR against hate-monger, Chandru Moger
Mob sets three houses ablaze in Agra over interfaith relationship
Karnataka: Muslim man beaten up for travelling with Hindu woman
The changing anatomy of hate speech and communal violence
Allahabad HC bats for tolerance, but refuses to strike down meat and liquor sale ban
JJM approaches IG about attacks on Muslim minority
Nashik police prohibit Hanuman Chalisa just before and after Azaan