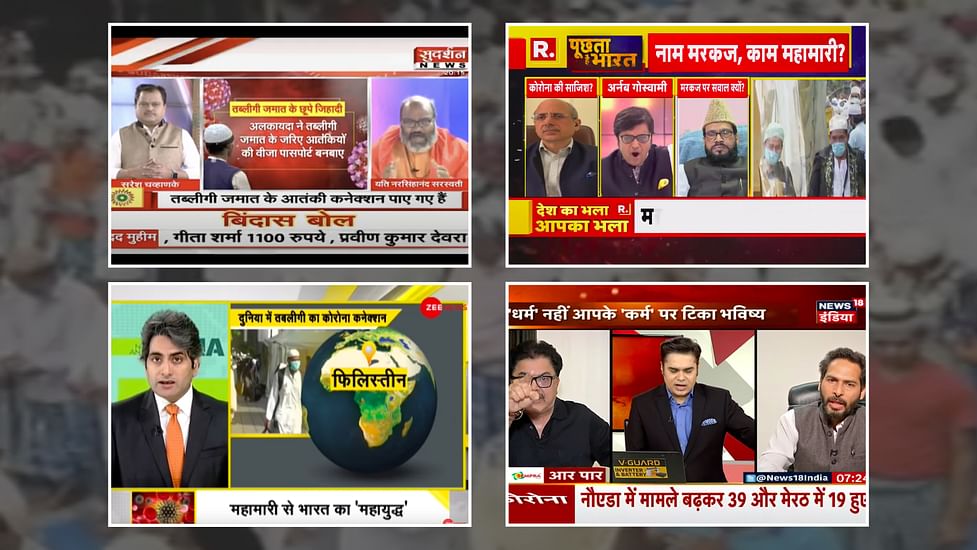 The discovery that about a 1,000 people were present for the congregation at the Markaz and that many of them had travelled to different parts of the country, was followed by not just a media trial, but a factory of fake news aimed at dehumanising an entire community.
The media trial
Within days of the national lockdown being announced news broke that about 1,000 people were found at Nizamuddin Markaz, Delhi for a congregation. It was identified as a hotspot by the Delhi government and it was reported that many people who attended the congregation had travelled to different parts of the country before the national lockdown could be announced. From here on several conjectures were reached that numbers of Covid affected persons was increasing in the country because the Jamaat members people brought the virus into the country, that there was a controversy to spread the virus in the country and so on.
Here are some examples of news channels that contributed to this manufactured frenzy. On April 24, India TV in its show titled "Haqeeqat Kya hai" reported that Jamaat members had come to India with a hatched plan to spread Covid-19 in the country and also made baseless claims such that if Jamaat had not emerged as a hotspot, the national lockdown would not have to extended.
The news media was rife with terms like "corona jihad", "Taliban Tablighis", "corona bomb" and many more such outrageous terms to play the narrative of blaming the spread of a pandemic on a community. Times Now called it "Markaz mayhem" and accused the Arvind Kejriwal government of not dealing with the "super spreaders" inside the Nizamuddin centre, because of "appeasement", as reported by The Print.
Some news channels even mapped out the movements of Jamaat members who travelled to different parts of the country, marking them with red tags, creating not only a panic situation for general public but also adding fuel to the much prevalent animosity.
On March 31, Zee News aired a show that analysed how Tablighi Jamaat betrayed the country, which had over 2 lakh views. In another show hosted by Sudhir Chaudhary on Zee News, he said "India stood stronger in front of the coronavirus till now. But this fight has been weakened by corrupted thinking. This thinking is of people from Tablighi Jamaat". This was called "Tablighi 'Jamaat' कीघटियाहरकतोंकीगवाहियां", which translates as "Testimonies of Despicable Actions of Tablighi Jamaat" and it has close to 2 lakh views again.
On April 8, Times Now's Navika Kumar hosted a show "Tablighi still remains untraced, Is it time to file a murder charge?" and she called it a "Tablighi ticking time bomb". Another host, Rahul Shivshankar, in his show aired on April 2, questioned, "25% of positive Corona cases in India have been traced to Tabligh. They broke the law and even ignored PM Narendra Modi's pleas. Is Jamaat wilfully sabotaging India?"

Fake news
There were several instances of reportage of fake news even by national news channels and their social media platforms. Many a times these news reports were refuted by the police or state administration and other times they were doused by fact checking websites.
On April 9, Arunachal Pradesh Information and Public Relations department called out Zee News for falsely reporting that the Northeastern state has 11 coronavirus patients who can be traced back to the Delhi congregation.
Zee News was also called out by Firozabad Police for misreporting on April 6, that 4 corona positive patients, all from Tablighi Jamaat, pelted stones at the medical team that had come to escort them. This was posted on their Facebook page which it received more than 5,500 likes and 1,400 shares, reported News Laundry. "You are spreading false and misleading news when neither a medical team nor any ambulance has been pelted with stones in Firozabad district," the Firozabad police tweeted from their official handle. "Delete your tweet immediately."
On April 5, Amar Ujala newspaper reported that members of the Tablighi Jamaat asked for non-vegetarian food and defecated in the open inside a quarantine facility in Uttar Pradesh's Saharanpur. This was shared on their Facebook page and garnered 4,000 likes. A local media outlet, News 1 India, picked up the Saharanpur story and shared it on Twitter, adding that it was mutton biryani that members of the Tablighi Jamaat desired.
The Saharanpur police used its official Twitter account to reply to the tweet with a statement that the claims of the media outlets were investigated and found to be "wrong and untrue", reported News Laundry.

Muslims facing discrimination
As these media trials and fake news spread through the public, incidents of discrimination and sometimes even assault started creeping up. There was one video surfacing on social media, shot by a Muslim delivery boy who was showing that a Hindu man refused to accept a delivery of goods from him only because he was Muslim. Zee News did an "analysis" of this incident and raised questions like "Are the Jamaatis responsible for this?"
There was also a video surfacing of a BJP MLA from Deoria, UP where he can be seen saying, "Keep this in mind and I am saying this openly, no one should buy vegetables from Muslims". There were also incidents of social boycott, one such incident led to a Muslim taking his own life. Reportedly, he was suspected to have contacts with a Tablighi Jamaat member and he was suspected to have Covid-19. Then he was quarantined and when he came back to his village he was allegedly discriminated against and was boycotted which drive him to take his life.
Even as fingers were being pointed at the Jamaat members throughout this long drawn episode of blaming the spread of a pandemic on them, very few voices questioned the Delhi government or Delhi Police on why was permission granted for such an event and if it was given much beforehand, it meant they were aware and it slipped through the cracks. They were equally to be held responsible for Markaz becoming a hotspot. Looking back, one wonders how a few thousand people, who were backed up against the wall were blamed for a pandemic that has now affected millions over the past months. Tablighi Jamaat became all but an excuse, a punching bag, to shift people's attention to a blame game rather than seriously question the government's handling of the pandemic, its callous attitude towards the entire section of the migrant worker population and a denial of the hunger and deprivation Indians were suffering. This section of the Media played well to the government's cynical tune.
Will these errant media houses be made to pay?
Related:
Tablighi Jamaat: Delhi court acquits all foreigners after months of trial
Justify 'attempt to murder' charge on Tablighi Jamaat attendee: Allahabad HC
Tablighi Jamaat news reportage: SC slams Centre's shoddy counter-affidavit