He is the only one who can reinvent the Aam Aadmi Party, be a counter to a resurgent BJP.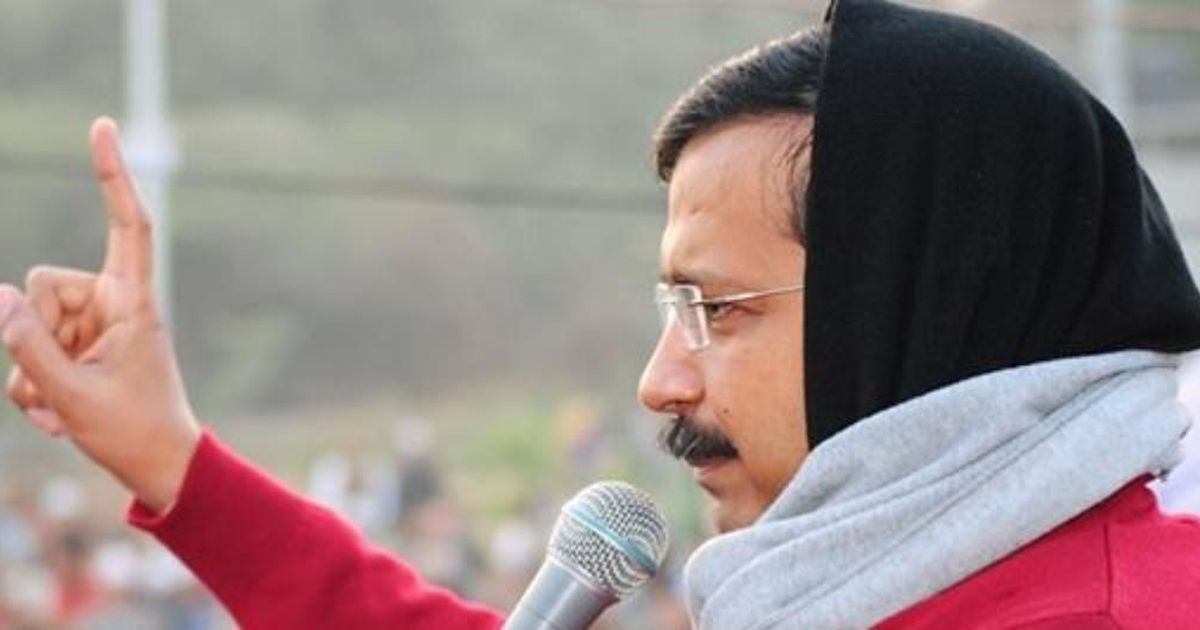 Regardless of the Aam Aadmi Party's performance in the municipal elections held in Delhi on Sunday, its leader Arvind Kejriwal should resign as chief minister and hand over the reins of governance to his deputy, Manish Sisodia. This would free Kejriwal to return to the people to reinvent the popular movement from which the party was spawned.
This suggestion is being made not because the predicted loss for the Aam Aadmi Party in the civic elections, forecast by exit polls, undermines his moral authority to govern Delhi, as was recently made out by Swaraj India leader Yogendra Yadav.
Indeed, Assembly and municipal polls have different dynamics. For instance, the Congress under Sheila Dikshit lost twice to the Bharatiya Janata Party in the local body elections and yet continued to garner a majority in the Delhi Assembly. What applied to her, and still does to others, should to Kejriwal as well.
The reasons why Kejriwal should resign are of a completely different order. India's electoral politics shows alarming signs that it no longer serves the purpose of educating people, of enabling them to comprehend issues in all their subtleties and debating them. This was manifest in Delhi, where its electorate seemingly confused the categories of duty and responsibility of its state government with those of the three municipal corporations, which are currently ruled by the BJP. Messaging is now paramount, because of which it was made out that Delhi's problems – from the clearing of garbage to mosquito control – were the failings of the Aam Aadmi Party government.
However, Delhi's cleanliness is the responsibility of the municipalities, notorious for their corruption. Ask any roadside vendor in the city and he will regale you with the amount of bribe he pays every month to municipal officials and beat constables who also pinch cigarettes, cold drinks and snacks and food for free.
Who in Delhi will not vouch for the money he or she has saved over the last two years because of the sharp reduction in power rates that the government has brought about? Then, there are the growing number of areas in the city that have been liberated from the clutches of the water mafia. Think of the Aam Aadmi Party's focus on improving government schools and on building mohalla clinics that have won accolades from global health experts.
You would think the Aam Aadmi Party's record of the last two years would inspire Delhiites to believe the party is best placed to run the city's municipalities. The exit polls, however, seem to show that governance doesn't matter to people. Infinitely more important is the messaging, through which, with a little help from the media, a pan-India leadership cult has been created, and an impression made that the BJP is impossible to trounce, thereby underscoring the sheer futility of voting for anyone else.
It is true that exit polls have gone wrong in the past. They may still in Delhi.

Kejriwal's time to reinvent AAP
Nevertheless, even an Aam Aadmi Party victory should not deter Kejriwal from resigning. India desperately needs a movement to counter the inimical consequences of the politics the BJP is pursuing. Providing exemplary governance in Delhi cannot be a comprehensive counter to it.
For one, Delhi is a quasi state, dependent on the mercies of the Central government, whose representative, the lieutenant governor, in his imperious conduct might be making the British administrators of yore snigger in their graves. The Aam Aadmi Party government will continue to encounter impediments in the pursuit of its goals.
For the other, Delhi does not have a distinctive regional or linguistic identity, nor is it beset with political competition among castes, the three factors largely responsible for the emergence of a clutch of state-based parties. From this perspective, Delhi's cosmopolitan identity was precisely why the city became the home base of the Aam Aadmi Party, which did not seek votes on the basis of caste or religious or linguistic affiliations. Instead, it sought to redefine the idea of citizenry through the pursuit of a brand of politics that promised clean governance and effective delivery of services to all, but, obviously, with a special emphasis on the last man in the queue.
It was supposed to turn into a national movement, a Delhi model, so to speak, that others in India would feel encouraged to emulate. This is why Delhi surprised all in the 2013 Assembly elections, when the Aam Aadmi Party won the confidence of a large segment of Delhiites to come to power and then, a year on, went on to expand that into an overwhelming majority in the next elections.
In other words, the Aam Aadmi Party as an idea will have relevance in Delhi as long as it holds out the promise of going national. But it has the opportunity of reinventing its personality only until 2020, which is when Delhi will have its next Assembly elections. This, therefore, is just the moment for Kejriwal to launch a movement, combining some old ideas with some new ones. What ought to then be the strands of a reinvented Aam Aadmi Party movement?

Silent Opposition
Regardless of the BJP's victories in Assembly elections in Uttar Pradesh and other states in March, there is disquiet in the country over the communal polarisation it has relentlessly pursued through its Hindutva philosophy, of which the most virulent manifestation is vigilantism over cow protection. No less dangerous is the fusing of Hindutva with nationalism, a combination so powerful that it has suppressed acute anxieties arising from agrarian distress, jobless growth and rampant corruption that the much-touted antidote of demonetisation – the withdrawal of high-value notes in November with the aim of flushing out black money – palpably failed to cure.
The sharp edge of Hindutva has cut many. For instance, Samajwadi Party leader and former Uttar Pradesh chief minister Akhilesh Yadav, quite sarcastically, mentioned that development no longer counts, and that he should instead daily tweet a photo of himself paying obeisance at a temple. To a person close to him, he confided, "Do we Yadavs have to now learn how to respect the cow? When I rebuilt a temple in the chief minister's residence, did I publicise it?"
To this person, he also spoke of how he didn't need a lesson in showing respect for the Army and subscribing to the BJP's tenets of nationalism. After all, as Yadav pointed out, he studied in a Sainik school, some of his friends are commanding officers in the Army, and his wife belongs to an Army family. But all such credentials and the development projects he undertook did not count as the Uttar Pradesh Assembly election was turned into a Hindu-Muslim show and voting for the BJP became proof of nationalistic feelings.
But Akhilesh Yadav's sharp articulations, made by most non-BJP politicians privately, are not heard in the public arena. This is because politics has become synonymous with electoral contests. Non-BJP politicians turn to people in the weeks before voting, thus haunted by the fear that statements countering the BJP's religious nationalism propaganda could have the effect of further polarising the electorate. At best, therefore, they seek to turn the electorate's focus on their agenda.
But this fails because the emotions of hate and spurious grievances inundate other competing agendas. Therefore, the BJP is in a win-win situation. It polarises society because it stands to gain. And because others shy away from countering the BJP's Hindutva spin, its technique of mobilisation isn't challenged. Comprehending that politics is the best medium of educating the people, the Sangh has a year-long programme of disseminating its political ideas.
This can only be challenged through a counter-movement, of which the principal ingredients have to be a battle for Hinduism and nationalism. These can be expressed through a chain of questions: Who is a devout Hindu? Is it he who kills in the name of the cow? What do we do with cattle that have stopped yielding milk and have become an economic burden on farmers? Do we require the political ideology of Hinduism? Do we need an exclusivist, destructive nationalism? Through which model of governance can an inclusivist idea of nationalism be nurtured?
Two recent incidents show just how fearful Opposition politicians have become.
In Saharanpur, BJP MP Raghav Lakhanpal's alleged insistence on leading an Ambedkar Jayanti yatra through a communally fraught locality led to communal clashes on Thursday. Despite her clamour for Dalit-Muslim unity, Bahujan Samaj Party leader Mayawati hasn't visited the site of the clashes yet.
And in Delhi on Saturday night, three Muslim men were beaten up, reportedly in the presence of the police, for ferrying buffaloes. A first information report has been filed against the victims while the assailants had not been caught at the time of writing this piece. In a city bustling with politicians with national stature, none have had the courage to mount public pressure on the police to explain their conduct.
It isn't that non-BJP politicians are not dismayed at the turn Indian polity has taken. But they have been silent because they fear their intervention would be perceived as Muslim appeasement and would incite the passion of Hindus. But such apprehensions persist among politicians because they haven't educated their followers on what is at stake in the BJP's appropriation of Hinduism and advocacy of Hindu nationalism.

Man for the job
Given that Kejriwal is steeped in activism and given his ability to organise and agitate – which was why the anti-corruption movement of 2011 for a Jan Lokpal Bill to hold government officials accountable became such a success – he is just the person to trigger a debate over Hinduism and nationalism. Not just in TV studios or in newspapers columns, but among the people.
Kejriwal ought to be the man to lead it because the bug of power hasn't presumably bitten him. Self-avowedly, he has often harped on the fact that he and his party are in electoral politics not for power but to transform polity and build a better India.
All this doesn't mean that the Aam Aadmi Party cannot continue to govern Delhi. That responsibility can devolve on Sisodia. He, in his quiet way, can continue to administer the city-state while Kejriwal plays the role of the conscientious challenger and political educator of the masses.
Indeed, the Aam Aadmi Party is often torn between providing governance in Delhi and playing the Opposition role nationally. Many, rather wrongly, accuse it of frittering away its energies in the quest to achieve its political ambition. By resigning as Delhi chief minister, Kejriwal would eject this duality.
What would Kejriwal think of the suggestion that he should resign?
On April 7, noted sports writer Pradeep Magazine retweeted author Krishan Partap Singh's tweet with the following comment, "Maybe time to give up power and educate people once again @ArvindKejriwal. Vote does not represent people's voice."

Among the 489 people who retweeted Magazine's message was Arvind Kejriwal himself.
Ajaz Ashraf is a journalist in Delhi. His novel, The Hour Before Dawn, has as its backdrop the demolition of the Babri Masjid.
This article was first published on Scroll.in