Today, the rights of vulnerable groups in the country are shrinking. Forest communities who are struggling to protect and maintain rich biodiverse areas are labelled anti-national and anti-development, whereas all that they are trying to do is live and maintain their livelihood in forests, as they have been doing for centuries. We are talking about progress in a scenario where life of tribal women is becoming increasingly challenging. Their survival is at risk as violence against women is increasing, and they're being called encroachers for carrying out activities they've been undertaking for generations.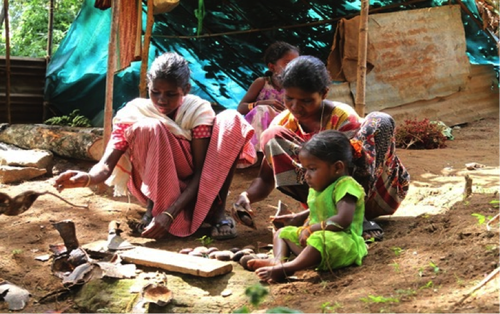 A glance at statistics reveals that in the first three months of power, the current national government passed 33 out of 81 proposals of diversion of land, affecting 7,000 hectares. This trend increased in the last two years and has caused 1.34 lakh hectares being handed over for diversion. This has caused strife and violence, especially against women who seek to protect their rights to access to such lands.
In Andhra Pradesh, acquisition of over 2,00,000 hectares for diversion and submergence will impact over 85,000 families, of which 100 families fall under Particularly Vulnerable Tribal Groups (PVTG) category. However, in today's definition of progress there is no place for vulnerable communities such as forest-dwellers, PVTGs, nomadic tribes, fisher folk, and women. Nomadic tribes have been terribly affected as their roads and paths have been blocked due to highways. For example, the area near IIM campus in Ahmedabad, where nomadic tribes lived, now has concrete buildings.
Forest Rights Act (FRA), 2006 was passed to correct the historical injustices of the past, specifically the injustices that were meted out by Forest Department (FD) that has continued the colonial authoritarian control over large tracts of forests and denied communities access to their areas, resources and livelihood. Whereas the enactment creates opportunities for the recognition of rights for forest-dwelling communities, implementation of the Act has been hugely impeded by FD's attempts to control these terrains and deny the recognition of individual and community rights.
FD continues to intervene in processes by rejecting and challenging claims, and is extending its reach to bring new areas into its domain, even as it charges local communities with cases of violation on petty pretexts. National Resources Conservation Board data reveals an increase in the number of cases against women for violation of forest rules. Provisions are used to target those protesting against FD for its aggressive control, while seeking to claim traditional rights.
These processes of development have led to the "process of othering". Nomadic communities have been forced to settle in the Rajaji National Park as their traditional route of transhumance has been blocked with construction and development of infrastructure. They are not allowed on these routes, and are now being called encroachers. The FD has resorted to assault on their land and their meager resources to scare and impede their existence. It is denying them access to their own resources. Last year, several women were physically assaulted and not even given medical care.
In Gujarat, members of Maalya Mahila Macchi Maar Sangathan spend a part of the year as livestock herders, and a few months after monsoons as salt and prawn cultivators in the Rann of Kutch. But today, these women are in a situation where their rights are being threatened as their land has been allocated to companies on lease. Allocation of forest land for other uses such as industry and mining is a common practice by FD across the country even though it displaces vulnerable groups and denies the traditional dwellers their rights.
FRA states that people have rights over Non-Timber Forest Products (NTFP). Yet, these resources continue to be auctioned on tender to traders and companies. There is clear evidence from available data that the land recognized under FRA provisions is far less than the land claimed by forest-dwellers, although the Forest Rights Committees are recognized under the Act as bodies that can validate claims at the habitation level. FD postures as obliging communities by giving Individual Forest Rights (IFR) or recognizing Community Forest Rights (CFRs), but far less is recognized than actual claims. The interventions by FD are beyond the brief of FRA. This denial of rights impinges upon their current economic activity as well as their means of sustaining their lives for the future in embedded environments, from which they draw food, fodder, and other livelihood needs.
According to estimates, CFR and IFR rights should be recognized for 200 million STs and OTFDs in over 170,000 villages. But only 3 per cent rights have been recognized in the past 10 years, since the Act was passed. Moreover, the area recognized is far less than what is claimed. These are strategies to prevent communities from having access to their resources and being independent of market forces for their livelihood. It will drive forest dependent communities to alienation from food and subsistence resources. FRA has provisions that are transformative in nature, but it has not been implemented because of lack of government's intention to shift power into people's hands. For women risks multiply as they struggle against violence and denial caused by state action. They struggle to manage survival needs and assert their rights.
FRA does give women rights. They are appended to male heads of households. Their status is recognized within the FRC but is rendered a minority. Data systems of FRA monitoring process do not record gender disaggregated data, hence the implications of FRA from a gender perspective continue to be ignored. The need is to independently recognize women's claims and give them equal representation in decision-making structures related to forest management and conservation. These measures, along with gender budgeting and gender disaggregated management of data systems, will serve to facilitate redressal of gender priorities in relation to FRA and overall rights and claims over forests.
*Gender, natural resources and livelihood practitioner, independent researcher seeking to support people's organizations and strengthen gender strategies and women's voices in public, member of the CFR – Learning and Advocacy Process as coordinator of the gender sub-group, and MAKAAM national facilitation team.
Article reproduced from "Forest Rights Act: The Historical Injustice Continues", a report based on independent people's tribunal inquiry into the status of implementation of FRA in India. Click HERE to download