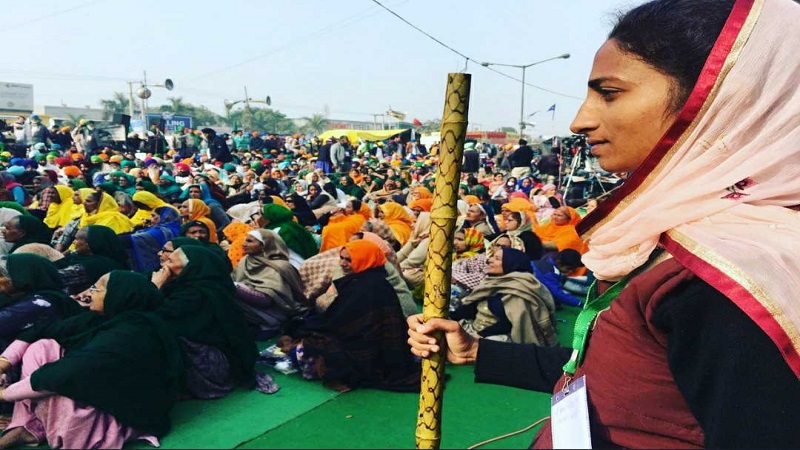 Over 800 women farmers and university students expressed shock and dismay in an open letter to the Chief Justice of India S. A. Bobde on January 14, 2021 for his comments that allegedly undermined women's participation in the farmers movement.
All India Kisan Sangharsh Coordination Committee (AIKSCC) and ASHA member Kavitha Kurunganti called the Supreme Court's hearings and orders "controversial, unacceptable and unaccepted in various ways."
They were upset by the Court's comments on January 11 and January 12 stating that women and old people should be sent back and not have to participate in present protests.
The women farmers and leaders said that the Court, in saying this, was disrespectful of the fact that women are major stakeholders in agriculture. They said the comment denies women their agency and mocks the long-standing struggle of women engaged in farm work to be recognised as farmers.
"One of the important points of concern is the paternalism and patriarchy reflected in observations/orders with regard to women farmers. We urge the respected institution of the Supreme Court to recognise and appreciate the agency of women in this matter," said Kuruganti who also leads the farmers' Unions delegation on the Minimum Support Price (MSP) issue.
Similarly, MA student and Youth for Swaraj National Council Member Amandeep, said that women are the heart and soul of the Kisan Andolan and undermining their role and agency is extremely disgraceful. As a person working on-ground in the protest from early days, Amandeep said women are actively involved in organising speeches, meetings, conducting press briefings, arranging and providing medication and cooking along with their male counterparts at the protest sites.
"[They are also] taking care of farms and their households in villages, providing the protest sites on borders of Delhi with the logistical support – rations, blankets and other required commodities and also managing and running hundreds of protest sites within their states," said Amandeep.
Further, Youth for Swaraj National Cabinet member and Critical Thinking and Liberal Arts Diploma student Jahanvi said that the protest site has emerged as a space representing gender equity and empowerment rather than simply a space of resistance and dissent against the farm laws. Jahanvi has been virtually supporting and mobilising support for the Farmers' Protest.
"Such comments are completely unacceptable. It will be deeply appreciated if the august institution of the Supreme Court is not a witness to such remarks," she said.
The full letter written by women leaders and students may be viewed below: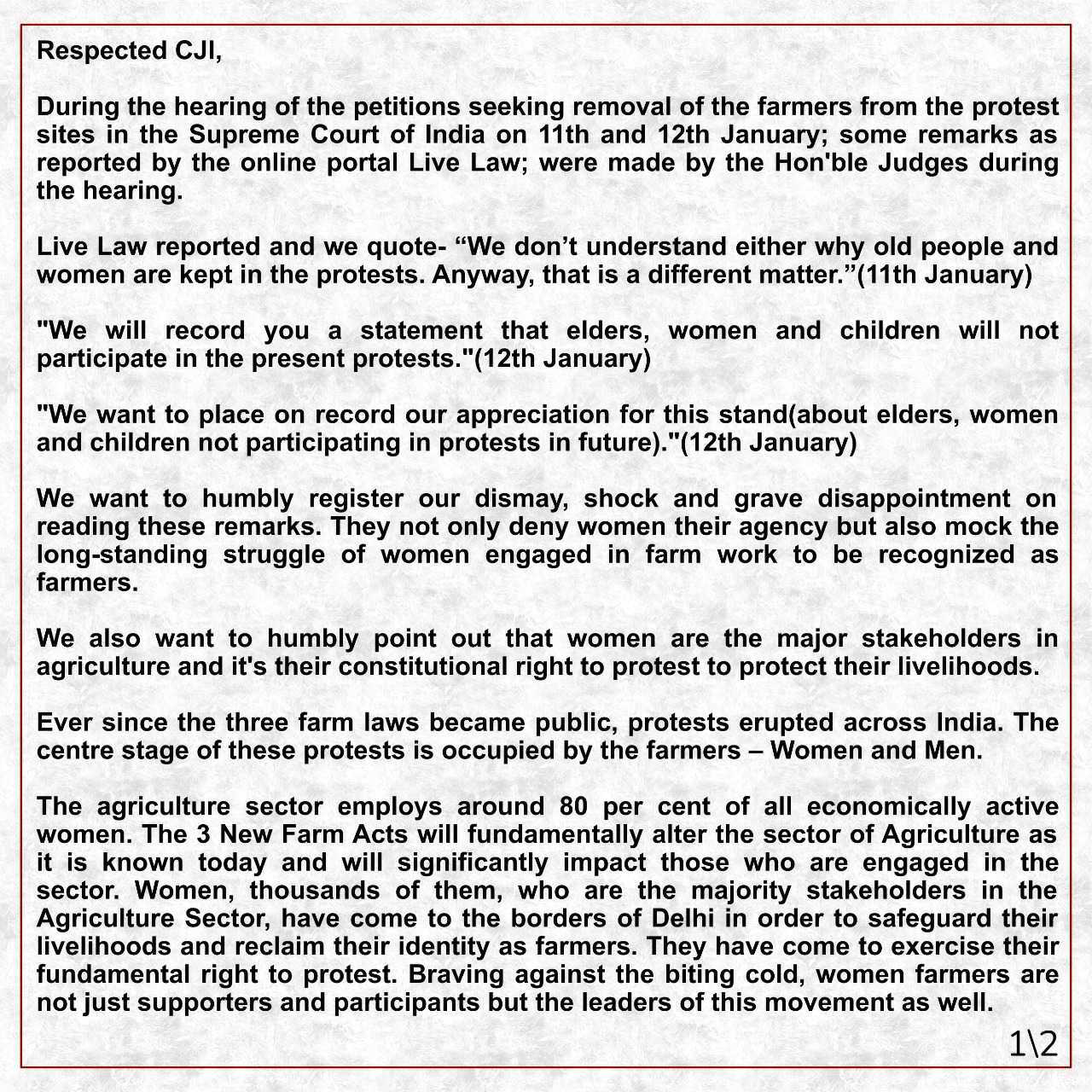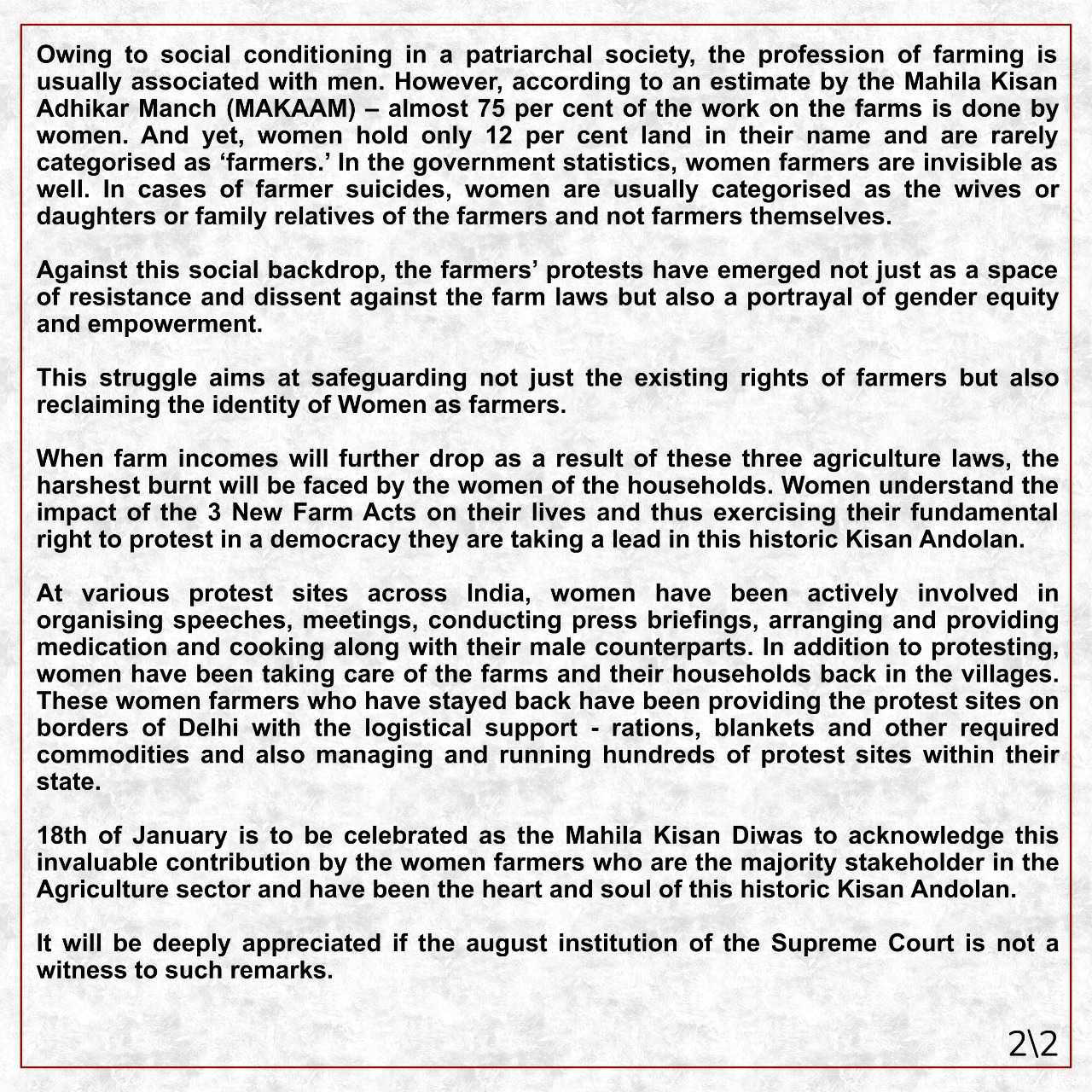 Related:
Women Famers still struggling for recognition
Khalistani, anti-farmer elements have infiltrated protests: Centre to SC
Victory for farmers! SC suspends the implementation of three Farm Laws
Centre to SC: Blames Unions, claims farmers happy, mum on absence of consultation
SC stays farms laws, but farmer leaders dig their heels in
Why are SHG women struggling with NPAs?
73.2% Of Rural Women Workers Are Farmers, But Own 12.8% Land Holdings