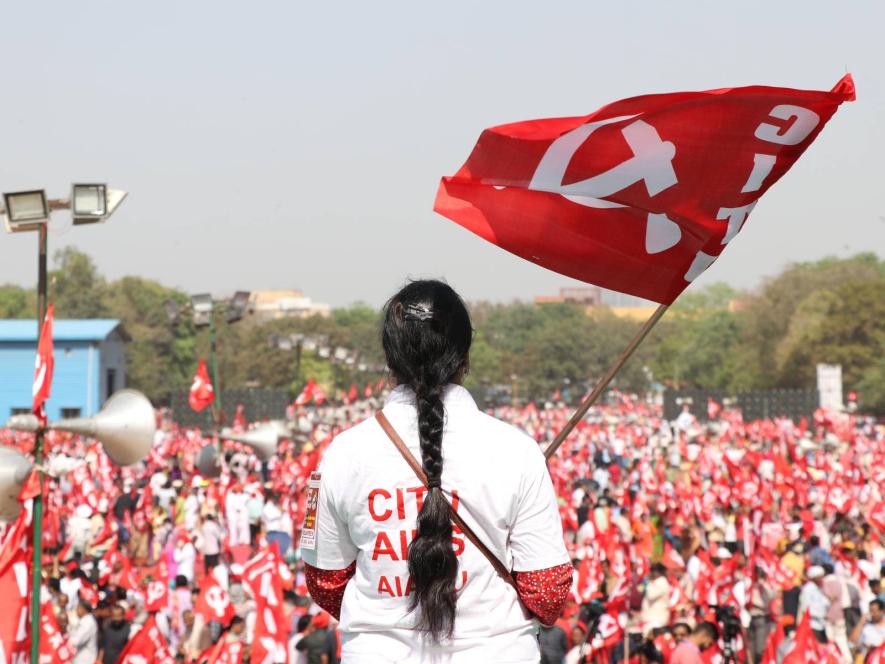 New Delhi: Raj Kumari is among the several natives of Madwas village, in Madhya Pradesh's Sidhi district, spending sleepless nights after being informed of the possible acquisition of their land to construct a power generator.
Despite the tension and frustration, the 33-year-old farmer left her driver husband and their two children to attend the Mazdoor-Kisan Sangarsh rally at Ramlila Maidan, New Delhi, on Wednesday.
Kumari was among the significant number of women who thronged the CITU-AIKS-AIAWU rally along with farmers and government employees from Haryana, Punjab, Rajasthan, UP, Himachal Pradesh, J&K, Maharashtra, Andhra Pradesh, Telangana, Kerala, Karnataka, Assam, Tripura, Manipur and Gujarat. The protesters demanded access to education, healthcare and dignified life for themselves and their children.
Kumari and her 20 villagers waited eagerly to express their grievances. "While I am here, a JCB has just bulldozed one of the gaushalas in our village. The government plans to build a power generator there and has asked for our land," she told Newsclick.
After she and other villagers protested in Bhopal, the state government promised to spare their houses. "But what is the use of having a home if I don't have land to cultivate?" she asked. "Besides, the government has not offered rehabilitation or alternate sources of livelihood," alleged Kumari, who belongs to a Scheduled Tribe.
Demanding rehabilitation and alternate farmlands if farmers lose their land, she emphasised the importance of paddy and seasonal vegetables as their primary sustenance.
Nandita Dutta, a junior sports assistant at Bharat Sanchar Nigam Limited (BSNL) in West Bengal for the past 16 years, is a member of the BSNL Employees Union.
Mentioning the state of BSNL, she recalled the employee anxiety when 80,000 workers were forced to retire voluntarily. "None of us are at peace. We fear the same fate," she said.
Dutta's colleague Bipasha Sarkar, who joined as a junior sports assistant in 2007, is dissatisfied with the decision to award the 5G tender to the Mukesh Ambani-owned Reliance Jio while denying BSNL access to the 4G network. Sarkar is concerned about losing thousands of customers nationwide and the lack of workforce.
"We are determined to fight and not allow the government to destroy BSNL, which has been built with our hard work and dedication", Sarkar added.
Anupama (52), employed with LIC India in Delhi, alleged that contractual workers are not paid the minimum wage and have no minimum working hours. As someone who has worked for LIC for around 30 years, she believes that the government has "abandoned LIC's goal of being a social organisation in favour of becoming a profit-making machine". She and her union demanded the revocation of the New Pension Scheme and termed it a "scam".
Jyoti Pawar, from Nandurbar district, Maharashtra, visited Delhi for the first time after protesting in Mumbai and Nashik. "The government has not paid us for the Ayushman Card on which we worked in 2021-22. The government owes us a considerable amount of money," she said.
Pawar alleged that despite being frontline workers during the pandemic, they "have yet to receive their Covid allowances for 2022".
A group of ASHAs from Madhya Pradesh demanded permanent worker status. Their protest began on March 15 after the state government asked them to survey Ladli Behna Yojana. The workers refused to conduct the survey.
Many Anganwadi workers from Punjab and Assam were also present at the rally. Karamjeet Kaur (50), an Anganwadi worker from Punja's Monga district, attended her third gathering despite back pain.
Kaur and her fellow Anganwadi workers have three main demands: the status of a government employee, fixed working hours and better quality of food provided.
Kaur said that parents have started complaining about the low quality and quantity of food provided at Anganwadis.
"Our union has helped us better our salaries through years of protests and strikes from the initial payment of only Rs 300. We'll keep fighting for permanent employment as we did for better salaries," she told Newsclick.
Courtesy: Newsclick