The long tradition of peaceful elections in JNU was broken this year with members of the Akhil Bharatiya Vidyarthi Parishad (ABVP) going on a rampage after they lost the Jawaharlal Nehru University Students' Union (JNUSU) elections.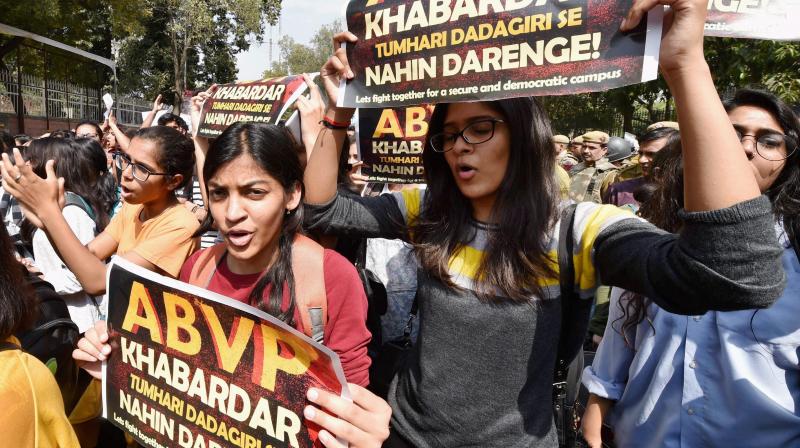 Image: PTI
Despite several organisations having contradicting and oppositional viewpoints, it had never happened in the university that any organisation would respond with violence to election results. Throughout the years various students' organisations have accepted their defeat with dignity.
However, this year the Rashtriya Swayamsevak Sangh (RSS) affiliated ABVP resorted to violence, both before and after the elections, seemingly frustrated over their inability to swing students' mandate towards their organisation. The ABVP had to face a decisive defeat at the hands of a unique United Left as they swept all 4 key seats. The atmosphere was celebratory. But ABVP went on a midnight spree to assault and intimidate several students including the newly elected president N Sai Balaji, the ex JNUSU president, Geeta Kumari, former JNU student Ashutosh Abhinay among others.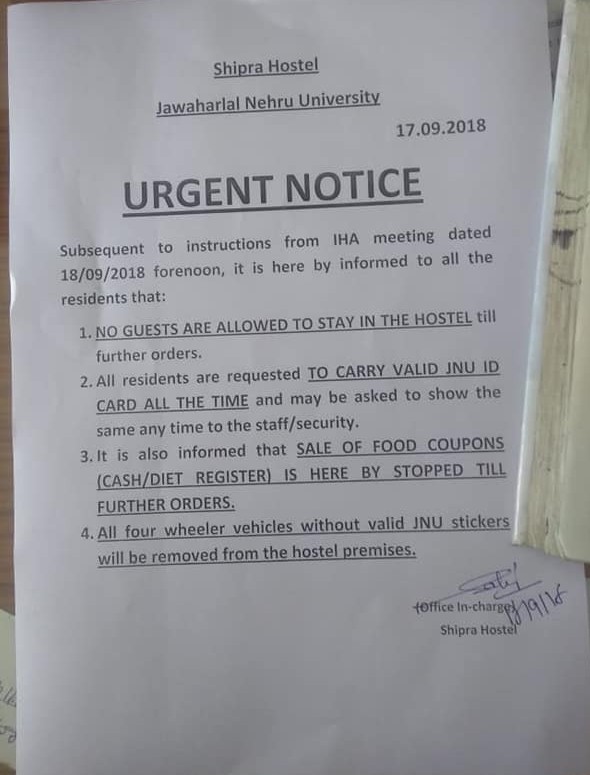 In a statement, the JNU Teachers' Association (JNUTA), said, "The JNUTA expresses its serious concern at the situation in the University where several students, including many women, have been targets of mob violence within the University. The Administration seems to have been standing by as a mute spectator. An air of insecurity is prevailing in the campus as there are several reports of incidents and there is a palpable lack of response on the part of the Administration." The JNUTA said that the administration was giving "kid glove" treatment to those indulging in violence against fellow students, while other students and even faculty have been repeatedly "penalized" for "protesting administration's policies" in a peaceful manner. "
The JNU faculties also accompanied students to the Vasant Kunj Police station to ensure that they could file their complaints. They reported that students were attacked even in the vicinity of police station.
In order to protest these episodes of violence, the JNU students gave call for a Peace march. They said:
Night vigil at Sabarmati tonight!
Let's all meet, talk, sing and debate over tea. Let's see how many of us the sanghi goons dare to injure while we are together. Let's see how the administration dares to impose curfew on us and restrict our mobility on campus. Let us win back every inch of space in this university that is ours.
Join in large numbers! Get your guitars, flutes, poetry books and daflis along.
JNU is ours!
#WeAreJNU

Thousands of students, teachers and workers joined the march. Every section of the JNU community opposed the culture of violence being normalised on the campus because of ABVP. However, JNU administration which had stayed silent throughout this entire episode, suddenly got alarmed and released a notice, saying all forms of processions, demonstrations etc. were "not allowed" on campus until further notice.
N Sai Balaji said that the intimidation continues and he was even stopped from entering his hostel, Periyar. It is to be seen if JNU can resist ABVP's violence which it intends to normalize on JNU campus.
Aejaz Ahmed Rather, the newly elected General Secretary of the JNUSU lamented the curtailing of freedoms on the campus in the aftermath of violence. He said, "Left students movements have a four decades old history in JNU. Though the students rightfully protest the administration's policies, they are defamed. But as the newly elected union, we intend to nourish the institutions that have seen decay in the past years. We can never forgive the VC for what he has done to the institution. Because of the policy of reservation cuts, many new students couldn't apply and join JNU. There has been a fund cut from important courses, dismantling of a democratic GSCASH and replacement by ICC. The VC has been interfering in a lot of internal committees' matters. We intend to rebuild the democratic institutions of JNU."
Furiously resolved to protect JNU's institutions, Rather said, "We will not let the right wing malign JNU. The VC should be sent back to where he was brought from."