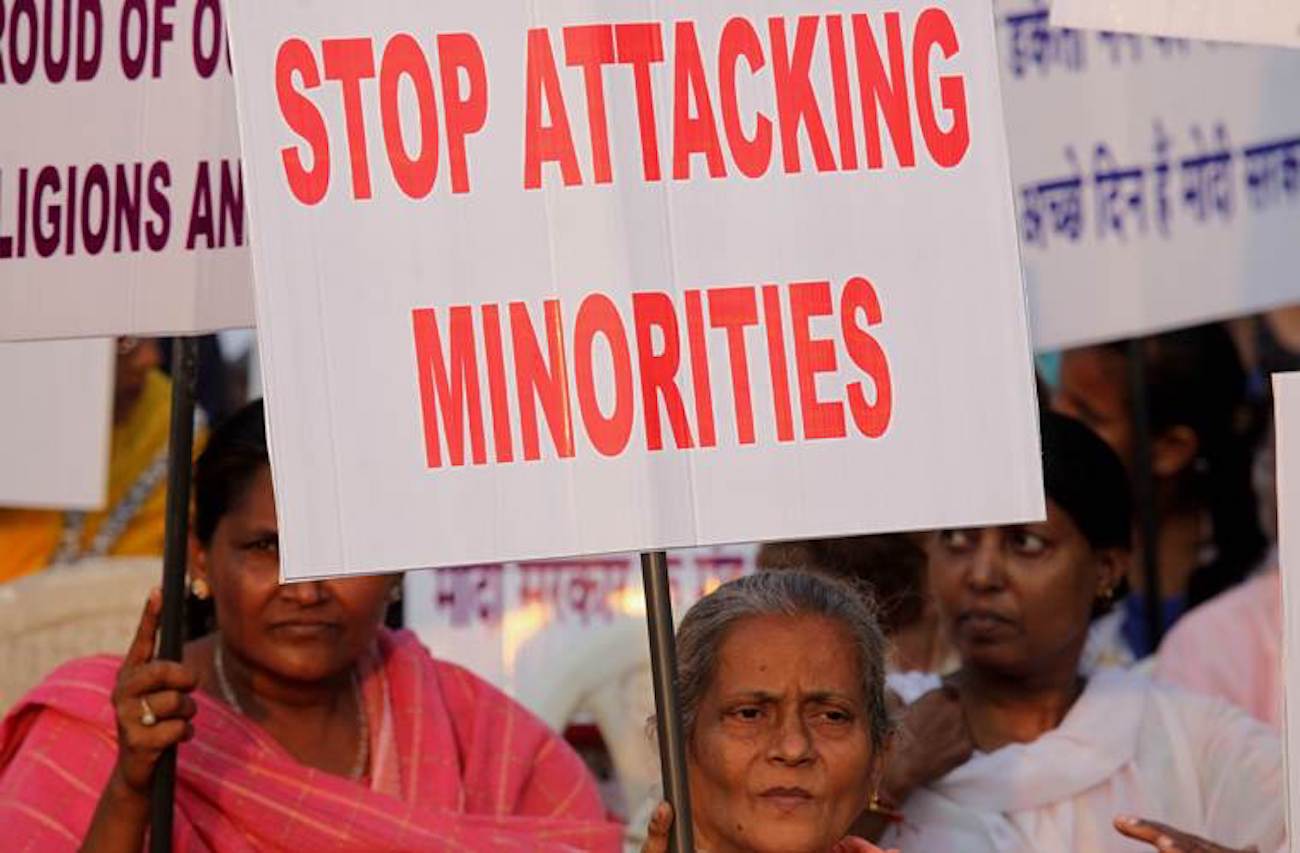 Junaid and Nasir set out on February 16, 2023 to meet some relatives. They were subjected to brutal violence at the hands of 'cow protection' groups. These groups are operating in Haryana and nearby areas with great impunity.
The tragic episode also reveals the degree of absolute impunity which these groups enjoy and part collusion with the police. On their return these two Muslim youth were stopped by the gang operating in the name of 'Cow protection', beaten mercilessly and taken to the police station. Police neither sent the injured men to hospital nor apprehended the criminals. The gang then took Nasir and Junaid to a remote place, tied them to the back seats of the car and put the car on fire. The car which was used in this crime and other actions in the name of preventing Cow trafficking was earlier registered as the police vehicle!
Harsh Mander, the founder of Caravan-E-Mohabbat, trying to sooth the families of 'victims of Hate crimes', visited the area and wrote in Indian Express "I am profoundly chilled as I scan social media pages of Monu Manesar. He and members of his gang live stream as they openly brandish sophisticated firearms, sound sirens that mimic police jeeps, shoot at vehicles, and brutally thrash the men they catch."
While protests are going on against this horrific crime, two Mahapanchayts have taken place. The victims were from Rajasthan and crime was committed in Haryana. The Mahapanchayats, duly supported by RSS affiliates Bajarang Dal, VHP and another organization called Hindu Sena further delivered intimidating Hate speeches. In the first one it was said that if Rajasthan police comes to arrest Monu Manesar, the chief of the vigilante group, they will not be able to go back on their feet. In the second one on February 22, one Aastha Maa talked on the issue of "love jihad" and incited the audience not to spare those Muslims who are "eye-ing" Hindu Girls.
Meanwhile, three culprits have been arrested and it turns out that they were informers (Mukhbirs) of police. While the menace of Cow vigilantes has gone up in last few years, it particularly picked up after 2019. In 2015 the Harayana state passed a bill "Govansh Sanrakshan and Gosamvarshan" (Cow Progeny protection and promotion Act). In 2019 it brought in an amendment stating that, those trafficking cows will be punished. Since then many groups have sprung up who stop the vehicles carrying animals, make deals with them and in case of failures of the deals use violence. This treatment is meted out even to those transporters who have valid papers. Surely the police must be knowing this background. The Muslims of Mevat region are the ones, who inherit a syncretic Islam with many Hindu rituals. Milk is one of their main business and they are victims of such regular attacks from the Monu Manesar type groups while the police is watching.
It is not too long ago when the issue of Cow's meat, beef was brought to the fore as an essential part of divisive communal politics. While we are talking this Junaid here; there was another Junaid, a Madrassa student who was lynched while travelling in a train on the suspicion that he had beef in his Tiffin. We recall Mohammad Akhlaq and the fate of Pehlu Khan. Lynching was politically-socially introduced as a peak of communal violence directed against Muslim community.
One recalls that it was the murder of Akhlaq which precipitated the 'Award Wapasi' (returning national honors) trend among our foremost writers, scientists, social workers and what have you. IndianSpend reports "Muslims were the target of 51% of violence centered on bovine issues over nearly eight years (2010 to 2017) and comprised 86% of 28 Indians killed in 63 incidents. As many of 97 per cent of these attacks were reported after Prime Minister Narendra Modi's government came to power in May 2014, and about half the cow-related violence — 32 of 63 cases –were from states governed by the Bharatiya Janata Party (BJP) when the attacks were reported, revealed our analysis of violence recorded until June 25, 2017."
The hate spread against Muslims (and also Christians) has spiralled to horrific limits. In addition to those who are RSS affiliates, other Hindu Sena type of organizations have sprung up, dime a dozen. They merrily take the law in their hands, while some bigwigs keep formally saying that they should not take law in their hands. The crimes which are committed against this minority are highlighted with aplomb and many a times these crimes are live streamed on face book (Monu Manesar face book shows that) or videos are circulated as Shambhulal Regar who killed Afrazul and videotaped the killing.
Many of these culprits are honoured publically. The murder accused of Kalimuddin Ansari were greeted by Jayant Sinha, the then union Minster. Processions were taken out in support of the culprits of Asifa, the eight year old, who was subjected to rape and murder in Kashmir. One also recalls the murder of IT engineer Mohsin Shaikh who was murdered in Pune and now all the accused have been exonerated. They took out a victory march! There was also the incidence of a police officer Subodh Kumar Singh's murder. The crime of this upright police officer was that he was trying to take proper action in the case of a dead cow thrown in the field of village Syana in UP.
In a way the 'Cow-Beef' issue was flagged off by none other than our Prime Minster who in a public speech said that Maharana Pratap dedicated his life for cow protection. New issues are regularly being added to the 'Hate other'. Yesterday (February 26, 2023) Vashi (New Bombay) area saw a big rally 'Hindu Jan Akrsoh Rally' (Hindu Mass resentment) shouting slogans against Muslims for Love Jihad and Land Jihad. One of the top Godi media (pro sectarianism media) anchor had presented a detailed chart of types of Jihad which have been unleashed in India! Goebbels dominates the media ecosystem of India!
As we are witnessing a spiral of increasing Hate, Violence and consequent polarization, the fraternity inherent in our Constitution is showing a downslide. The freedom movement saw an upward going spiral of communal amity, now is the time to revive those principles to lay the foundation of harmony, amity and peace. These surely are the prerequisites of "progress of the country."
Related:
HateWatch: Inciteful speech given by AHP leader Pravin Togadia at MPS Science College, Bihar
Junaid Nasir murder: Magistrate summons relatives, villagers of victims for breach of peace