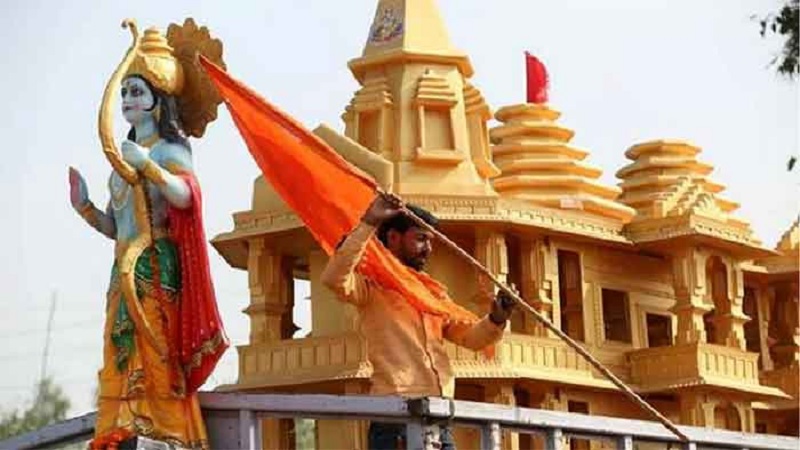 Image Courtesy:countercurrents.org
Ram has been described as Maryada Purushottam, the most virtuous among men. He left his kingdom merely because he didn't want to hurt the sentiments of his step mother and went on a 14 years exile. It was not in his character to enter into a dispute. He had to enter into a fight with Ravana only because his wife was abducted. But even then before killing Ravana he asked Laxman to go and seek Ravana's blessings because he was an accomplished scholar. Even though Ram is rightly criticised for having abandoned Sita on a hearsay but it shows that he avoided controversies.
It is a pity that in the name of such a Ram, a political campaign was carried out by organisations subscribing to Hindutva ideology purely for political motive and a mosque was demolished for the purpose of building a temple. The country has witnessed how the Bharatiya Janata Party consolidated its mass support around this issue alone. Had there been no Ram temple movement BJP would have never acquired political power in this country. Hence the temple going to be built at Ayodhya is a political temple not a religious one. But the BJP and Sangh Parivar, which all along has been claiming to be a cultural organisation, by conflating political and cultural (read religious) agenda have exploited the sentiments of gullible masses.
On December 6, 1992, Kalyan Singh, the then BJP Chief Minister of Uttar Pradesh, during the day, had given word to the Supreme Court that he would protect the Constitution of this country, but felt elated when Babri mosque was demolished and claimed that he was a RSS worker first and a CM later. The present CM Yogi Adityanath has brought an ordinance which enables the government to recover the cost of damage to public and private property from people who were allegedly involved in movement and ensuing violence during the anti-Citizenship Amendment Act and National Register of Citizens protests. However, the demolition of Babri mosque, which has been described as a criminal act even by the SC judgement awarding the disputed land to Hindus for construction of temple, is obviously viewed differently by the Hindutva forces. Kalyan Singh says that had not the mosque been demolished it would not have paved the way for temple construction. How can one destruction and violence be legitimised and even glorified and another demonised?
At a time when the world is facing its most serious health crisis in the form of coronavirus it is ironic that the Prime Minister, instead of strengthening the public health care system, has decided to be part of the foundation laying ceremony of the temple. It is not clear how a temple at Ayodhya, except for benefitting the BJP politically, will further the welfare of general people, which should be the government's top priority. The resources going to be spent on this grand temple could have been better utlised in the interest of common masses.
The Ram temple movement has also damaged the liberal image of Hindu religion. The image of Ram himself was transformed from a family man possessing exemplary virtues to an aggressive warrior. A religious Hindu believes that God is omnipresent. In Ayodhya itself there are many temples which claim to be the birth place of Ram. By pinpointing one particular location, at the site of a mosque with the purpose of extracting political mileage from it, the politics of Hindtuva has constricted the vision of Hindu religion. Hinduism is one of the oldest religions of the world and is known for its inclusivity and diversity. But the assertive Hindtuva has pit Hindu religion in competition to a much newer religion, the Islam, because for the political aggrandisement project it was necessary to create an enemy. This is the biggest irony. Hindu religion had no competition to begin with, it survived various assaults from different religions which came with outside conquorers as well as from the newborn indigenous religions like Buddhism, Jainism and Sikhism, but the politics of Hindutva needed an enemy in the form of Muslims or Islam for its naked promotion. This fact should be sufficient to convince people that the Ram temple in Ayodhya is against the tenets of Hindu religion and as such cannot be acceptable either to Ram or to an ordinary Hindu.
The futuristic religious places would be where followers of every religion would be welcome. In the post coronavirus world human beings will have to evolve a culture of co-existence. In Ayodhya itself there is a Ram Janki temple which has a vision of converting itself into a multi-faith harmony centre. A Sarva Dharm Sambhav Trust has been created to build such a futuristic religious place which will welcome followers of any religion under the Sun as well as atheists. This trust has the Mahant of this temple Acharya Yugal Kishore Shashtri, who is known for his steadfast opposition to communal politics, Faisal Khan, who revived the historic Khudai Khidmatgar organisation, a Dalit scholar from Bihar Harinarayan Thakur, a transgender Reshma from Patna and one of the writers of this article as its Trustees. A langar, similar to the one run at Gurudwaras, has already begun at this temple where people of all religions and castes are welcome to come and partake in the serving. The langar committee is headed by a Muslim Danish Ahmad and has a few Dalit members. The Sarva Dharm Sadbhav centre intends to be a symbol of syncretic culture.
Note: Arundhati is with National Alliance of People's Movements and Sandeep is with Socialist Party (India).
Related:
Babri Masjid demolition vs pulling down of statues of racists in the US
The State has no religion