Pune Police has been unrelenting in pursuing human rights defenders in the name of investigating the Bhima Koregaon case. The latest victim is Dr. Hany Babu, an Associate Professor at the English Department of the University of Delhi for more than a decade.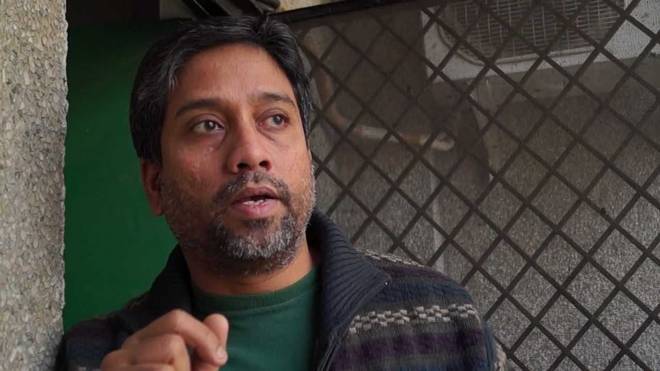 On September 10, at around 6.30 am the Pune police accompanied by Noida police raided the house of Dr. Babu. Reportedly, the police said that they didn't need a search warrant since this was in connection with the Bhima Koregaon case. Dr. Babu's house was searched for several hours and the police took away all electronic devices, laptops, pen drives, mobile phones, etc.
The police team comprised Assistant Commissioner of Police (Swargate division) Shivaji Pawar, the investigating officer in the case along with Deputy Commissioner of Police (crime) Bachchan Singh and others.
A Facebook post on Tuesday by Ms. Jenny Rowena, Babu's wife and a professor herself, read: "Today, the Pune police entered our house at 6.30 in the morning. They said that Hany Babu (my husband) who teaches at Delhi University English Department, is involved in the Bhima Koregaon case and for this they could search the house without a search warrant. They searched the house for up to six hours, took three books and his laptop, phone, hard disks and pen drives. They just left now. (Sic)".
Dalit Bahujans gathered in thousands at Bhima Koregaon memorial to celebrate the bi-centenary of the battle of Bhima Koregaon were attacked allegedly by members and supporters of Hindutva supremacist groups on January 1, 2018. Various sections of the society came out in protest across Maharashtra.
Various reports, including one by SabrangIndia, suggested that police bandobast at the memorial was inadequate. But in the aftermath of the violence the police unleashed a massive combing operation against Dalit-Bahujans and conducted several raids and arrests the legality of which is disputed.
The first FIR registered in this regard named Hindutva leaders Manohar Bhide and Milind Ekbote as the instigators of violence. But they remained scot free. Meanwhile, the Maharashtra police unleashed a reign of terror in the form of raids and arrests on human rights defenders. What is more insidious is the subsequent charging of all the people especially human rights activists under the draconian UAPA.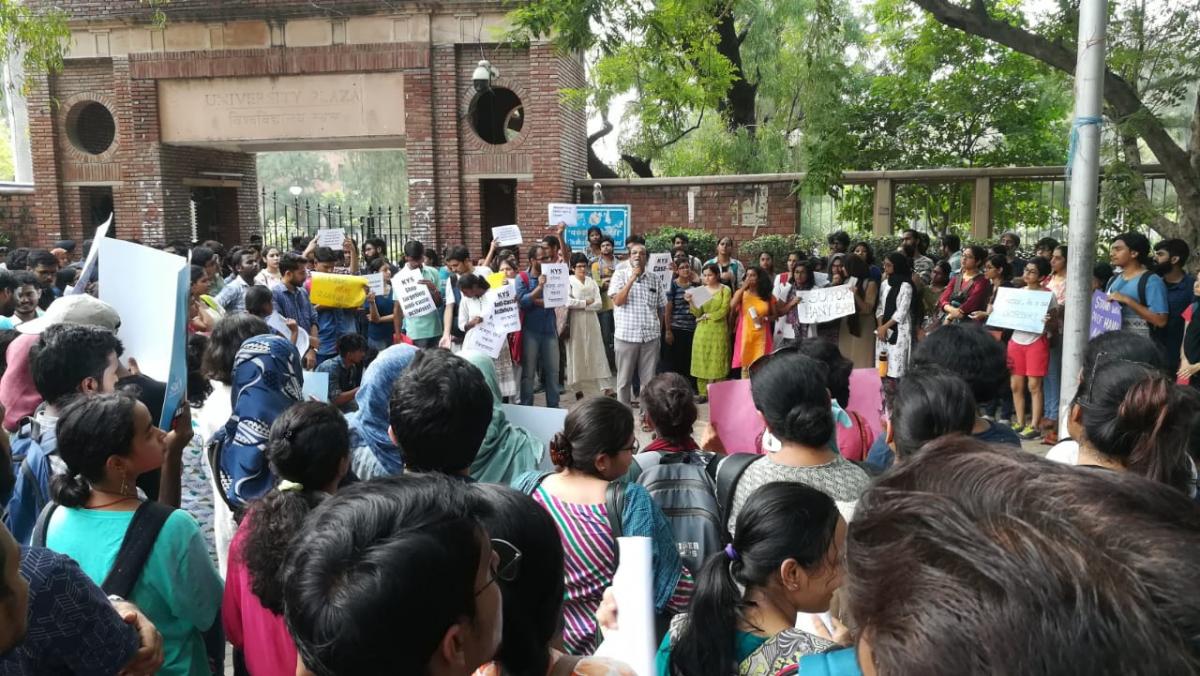 Protest in solidarity with Prof Hany Babu
On June 6, 2018 poet, activist Sudhir Dhawale, Adv. Surendra Gadling, Prof. Shoma Sen, Mahesh Raut and Rona Wilson were arrested in a massive crackdown. All arrests were allegedly made in connection with the Bhima Koregaon violence.
On August 28 activists Gautam Navlakha, Vernon Gonsalves, Arun Ferreira, trade unionist and lawyer Sudha Bharadwaj and Telugu poet Varavara Rao, had been ­arrested as a part of what is being seen by civil society groups as a state sponsored nationwide crackdown on dissenting voices. The houses of several other activists including Susan Abraham, Sta­n Swamy and Anand Teltumbde were also raided. On February 2, 2019, Teltumbde was arrested for a day and then let off and his application is pending before the Bombay HC.
Dr. Babu's wife, Jenny Rowena also teaches in the English Department of Miranda House, University of Delhi.
A statement written by students of English department of Delhi University highlighted Dr. Babu's penchant and commitment towards breaking the hegemony of certain languages including English. It said, "Given how much Hany Babu cares for language equality and the inalienable right of every language in the Union of India to advance, it is indeed shocking that the Indian state has harassed such an individual." It added that though Dr. Babu taught in the English department, he understood the "immense power" the English language carried with itself. He helped students understand how the language can cause exclusions.
Importantly, the statement noted, "Hany Babu's demand for language equality is allied to his demand for breaking caste exclusions in how knowledge is organised," as Babu is also part of the Alliance for Social Justice, a forum for opposing caste discrimination in the university.
Highlighting the illegality of the raid and search operation, a statement said, "Such raids without search warrants are against the very essence of democracy, individual freedom, and open the door for planting evidence. Arbitrary use of instruments of the state to harass and intimidate dissent is inexcusable. Such intolerance towards criticism and dissent was the basis for the insidious attempt that was made last year to amend the Delhi University Act and apply ESMA. We demand an immediate end to such blatantly threatening postures towards voices of dissent and democracy. This attack on academic freedom and freedom of expression will be opposed tooth and nail by the teachers of Delhi University and other academic institutions in the country.
Dr. Babu in a Twitter statement said, "As a teacher, my work is heavily dependent on the material I have saved on my laptop and hard disk. It also contains the research work I have been pursuing for years. This is not something that can be duplicated. This is years of my hardwork." This is a gross violation of Dr. Babu's rights and can only be construed as "intimidation and harassment by the Pune police, and, by extension, the current government in power, to silence activists, professors and other citizens who support human rights in this country."