We all know just how brilliant Zee News was with its 'scoop' on nano chip supposedly embedded in new Rs 2,000 note.
The channel's editor, Sudhir Chaudhary, even dedicated a special segment on his prime time show DNA to 'inform' his audience about this revolutionary albeit imaginary innovation by the RBI.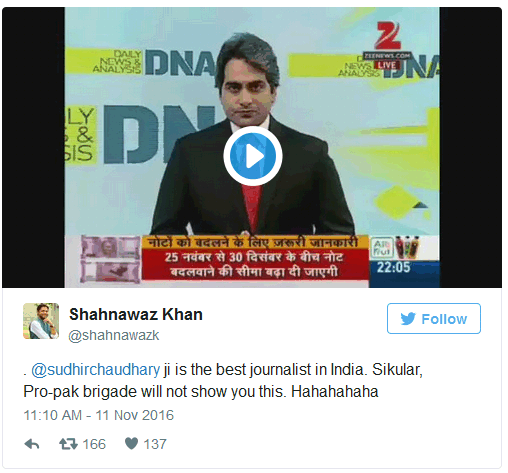 Dismissing the report as "figments of imagination," the RBI spokesperson Aplana Killawala told News18, "Such a technology does not exist at the moment in the world, then how can we introduce such a feature?"
But this didn't stop the channel from becoming a subject of social media ridicule.
Now a new video of journalists from Zee's rival channel, Aaj Tak, passionately shedding light on the ground-breaking technology- once again imaginary- invented by the central government has gone viral.
In the video, a group of Aaj Tak journalists can be seen forming a huddle with Shweta Singh, the channel's lead anchor, 'enlightening' her in-house audience about the latest innovation related to Rs 2,000 note.
Singh, who wins the day for her passion, tells her 'audience,' "…There are three things we know (on nano GPS chip in Rs 2,000). The new note has nano technology GPS. If there are too many notes lying together at one place, then not only will the law enforcing agencies be alerted about it but even the Income Tax department will receive a signal. Because the note will transmit a signal directly to satellite, which will reach there so that the money can be recovered."
Singh continues further as her captive audience find themselves completely awe-struck by what she has to say.
She adds, "(Though)nothing will happen when the notes are stored in banks. The notes can be found even if they are buried 120 meters below the earth."
This is when an interjection takes place from a member of Singh's audience.
The lady member of the audience agrees with Singh to say, 'This is very good. Because as soon as Modi made the announcement, people began suspecting that the new Rs 2,000 notes will give rise to black money. But this( nano GPS) technology is…"
Courtesy: Janta Ka Reporter