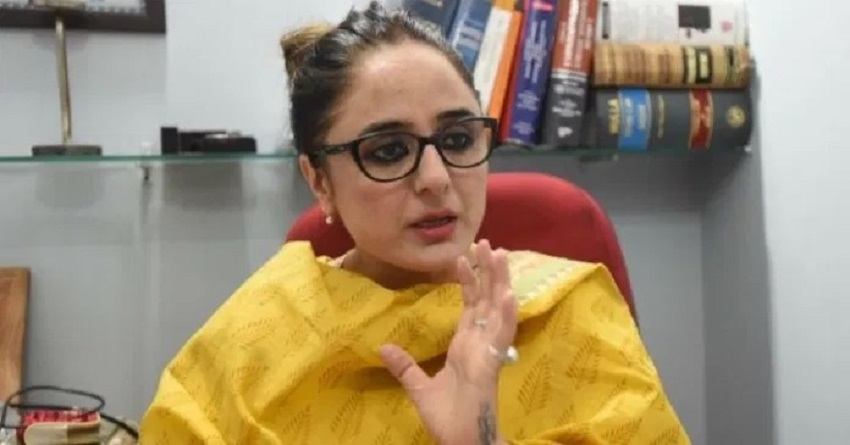 "Alert, Mob assembled outside my residence and raising slogans against me." Deepika Singh Rajawat, a well known lawyer practicing at the Jammu and Kashmir high court, and an activist alerted citizens an autorites to the threat to her life by a mob of alleged Hindutva zealots. The horror unfolded nearly around midnight on Tuesday October 20, and carried on till the local police intervened and dispersed the mob past 1 A.M on Wednesday October 21.
Thankfully the worst was averted, this time. But it was only Rajawat's alert mind and calm disposition that helped, she recorded photos and audios, of the mob baying for her blood with chants like "Deepika teri kabr khudegi… is Jammu ki dharti par (your grave will be dug in Jammu's soil". She shared the location of the mob, right outside her house and posted that she was "Not feeling safe ..they can cause damage to me". The lawyer then called up the police including top officials like the IGP, Jammu.
Alert pic.twitter.com/cD0xrP3GBE

— Deepika Singh Rajawat (Kashir Koor) (@DeepikaSRajawat) October 20, 2020
However, that the Hindutva mob, 'offended' by a graphic depicting the irony of violence against women, who are then worshiped as the goddess during the nine days of Navratri that Deepika Rajawat posted just proved the point she was making. A woman is to be targeted whenever she challenges patriarchy in any form.
Rajawat is a practicing Hindu who currently is observing the Navratri fasts and prayers, but the mobs do not care. Similar mobs had launched hate campaigns against her when she was representing the case of the little Bakarwal girl who was raped and murdered in Kathua in 2018. On Tuesday October 20, 2020, she shared proof of the mobs shouting death threats, a photo clearly showing a saffron scarf wearing, tilak anointed man leading the alleged mob.
This shows that he is confident that he will be noticed by his masters; he did not even wear a face mask, like his followers did.
Nothing has changed, in fact things have gotten worse in the Union Territory of Jammu and Kashmir. Another prominent citizen of the area, Kashmir Times editor Anuradha Bhasin, is also being targeted non stop. Both women are fighting the system, and the mobs, while continuing to discharge their duties as professionals, and human rights' activists challenging the system.
Deepika Singh Rajawat refused to cow down to such threats, and did not delete the cartoon she shared on her Twitter handle. The online trolls continue spewing venom, even two days later.
विडम्बना pic.twitter.com/eAuclZEBV8

— Deepika Singh Rajawat (Kashir Koor) (@DeepikaSRajawat) October 19, 2020
Such trolling continued even after she posted a detailed live video on her facebook page explaining that she herself was a practicing Hindu and did not post the cartoon to insult religious sentiments "I am a Hindu, I can never afford to hurt the religious sentiments of my Hindu brothers and sisters," she said. She added that she was a lawyer and a conscious citizen who was aware of her rights and duties. She stated that she had intended to raise the issue of what was going on in the name of religion. The trolls have been trending 'arrest Deepika Rajawat' for a couple of days now, and last night those threats were taken offline and mobs areached outside her house. However, the lawyer-activists has clearly shown she will continue to exercise the rights and duties, "I also know how to take recourse of the legal remedies available to me".
She asked, "Have rapes stopped?"
"People are standing up for rape accused now. Do not dare to assign ill motives to my name. I am not scared," she added.
Her talk is a must hear and can be accessed here:
https://www.facebook.com/deepika.singhrajawat
Related:
Ajay Pandita: When I am not safe, how can I say everyone is safe?
What Non-Migrant Kashmiri Pandits are demanding from the Govt
My thoughts on Deepika and her Hinduism –a beacon of hope in these depressing times
Kathua victims legal counsel honoured in Canada