A video in which a group of hooligans can be seen burning the Indian constitution went viral on August 10. The video has prompted strong responses from citizen groups on social media.
"दिल्ली के जंतर मंतर पर भारी पुलिस बल के सामने ही मनुवादी देशद्रोहियों ने भारत के संविधान की प्रति जला दी। ऐसे लोगो के खिलाफ तत्काल प्रभाव में कार्यवाही होनी चाहिए।भाजपा राज में क्या क्या नही देखना पड़ रहा है"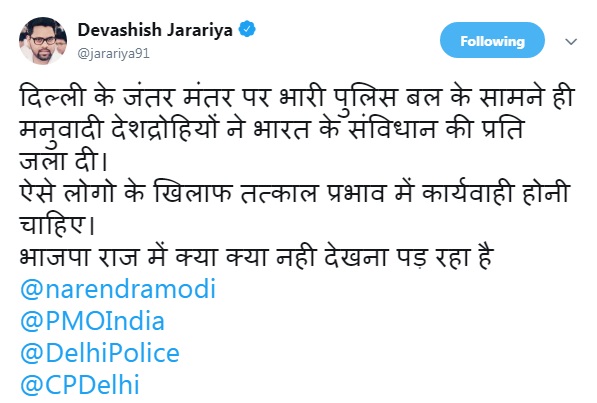 Delhi police has lodged an FIR against an organisation Youth for Equality (Azad Sena) in the said incident in which the group can be seen burning the Constitution and shouting anti-Ambedkar slogans. They can also be seen shouting slogans against Dalits and Bahujans.
Sections 153(A), 505 of the IPC of the Prevention of Insults to National Honour Act 1971 have been imposed on the group as part of the FIR. The FIR has been lodged in the Parliament Street Police Station by Akhil Bhartiya Bheem Sena national in-charge, Anil Tanwar.
Tanwar provided a CD containing a video of the video that went viral on August 10 in which some hooligans can be seen burning a bare act of Indian Constitution and shouting slogans.
"A resident of Gurugram, Tanwar also provided a video CD containing a viral video of the incident in which some protestors are seen burning a copy of the Indian Constitution and shouting slogans", said Deputy Commissioner of Police Madhur Verma.
Meanwhile, some reports that have emerged on social media indicate that one Sreenivas Pandey, a resident of Uttar Pradesh's Bhadohi area was the one to post the video on social media. Reportedly, he also said that "Savarnas aren't weak and are on the streets to demand their rights"
As per reports, the issue was also raised in the Delhi Assembly by Social Welfare Minister Rajendra Pal Gautam. He said that the group had raised slogans against Dr. Ambedkar and burnt a copy of the Constitution and urged the Speaker to ask the police commissioner about the action taken.
Meanwhile, the video took social media by rage and shock. Shrujana Niranjini Shridhar, illustrator and curator of the Dalit Panther Project archives commented, "Dominant castes want reservation in jobs and education, and the blame is pinned on the most oppressed of the society. This happens when education and jobs are privatised. It's easy to blame the reservation when you don't want to hold your government accountable for lack of jobs and education opportunities. After all, it's easier to channel your internalised hatred towards SCs, STs, OBCs rather than demand answers from the government.
Will the Delhi police even admit that this happened? They beat people up for not standing up for the national anthem, call university students anti-national, but burning the constitution is patriotic."
Youth have warned that action must be taken immediately otherwise there will be a movement against this unconstitutional act