Relatives of victims of fascism and brigades of Hindu Rashtra, close ranks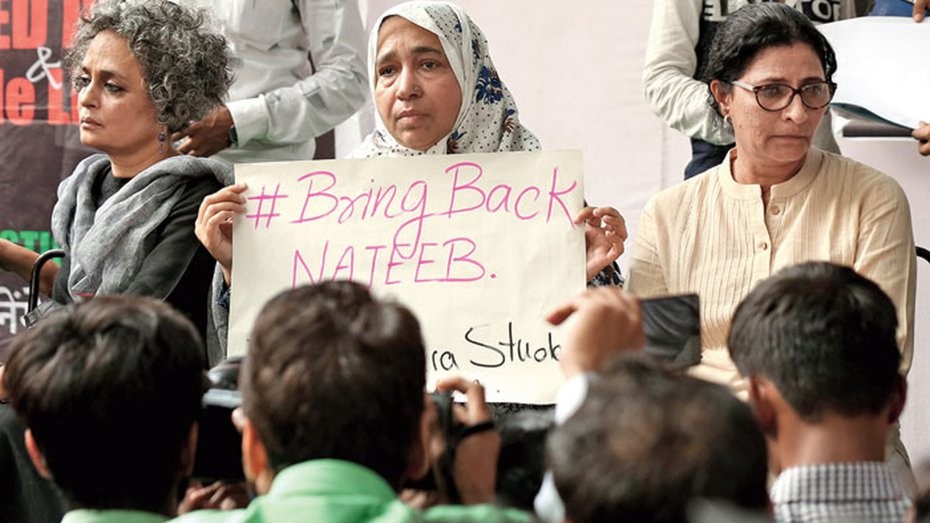 Fatima Nafess, mother of a JNU student who was reported missing after a clash on campus in 2016 shared a stage with relatives of victims of murders linked to Hindutva groups on Tuesday.At a public meeting to mark the third anniversary of the day her son Najeeb Ahmed was reported missing after a clash with supporters of the Akhil Bharatiya Vidyarthi Parishad, Fatima Nafis demanded justice. Along with Nafis was, Kavitha Lankesh, sister of slain journalist Gauri Lankesh and the wife of Jharkhand mob violence victim Tabrez Ansari.
At the meeting on Jantar Mantar road, Nafis said: "I am fortunate that all of you, my children, have done your duty to stand with me and say that I am not alone. This is a slap in the face of the Sanghis. The only thing the government is scared of are the youths who will be the leaders of tomorrow. Those who call themselves nationalists are selling airports and the railways and destroying institutions. The only people stopping them are the youths."
Last year, the CBI closed its investigation into the disappearance of Najeeb. Fatima Nafees has however challenged this through a protest petition. BSP MP Danish Ali, author Arundhati Roy, senior Supreme Court advocate Prashant Bhushan, St. Stephen's College professor Nandita Narain and several student representatives spoke in solidarity with the victims.
Kavitha, sister of Gauri Lankesh who was shot dead in 2017, said: "When (Narendra) Dabholkar was shot dead (in 2013) and (Govind) Pansare was killed (in 2015), I did not care. When (MM) Kalburgi was killed (in 2015) closer to home, it still did not sink in. Finally, when my sister was shot at our doorstep, I understood what fascism and the Hindu Rashtra is."
The killers of all four rationalists are suspected to be linked. Ansari died in police custody after being assaulted by a mob which made him chant "Jai Shri Ram" in Jharkhand in June this year. His 19-year-old wife Shaista Parveen had a miscarriage during his custody on unproven charges of theft.She said: "I have been running from pillar to post and have come all the way from Jharkhand to demand justice for my husband. Modiji, please grant us justice."
Ammi, a film by film maker Sunil Kumar and produced by Pedestrian Pictures traces this acute loss, search and longing by Fatima Nafis. "Our words haven't reached those who should have heard our voices."
This is one of the lines spoken in the beginning of Ammi, a documentary film by Sunil Kumar, produced by Pedestrian Pictures, which was recently screened at the YMCA, New Delhi and then last week at the Jawaharlal Nehru University. The essence of this line echoes throughout the film, prompting the viewer to recognise the gaps overlooked by the JNU administration as well as the law while investigating the disappearance of Najeeb Ahmed.
After Najeeb went missing on October 15, 2016, there were many cues left to be explored, from the minutest of forensic details (it is claimed Najeeb's slippers were found on the staircase along with his phone and wallet in the room), to the fact that he was thrashed by students from the Akhil Bharatiya Vidyarthi Parishad (ABVP) in his room the other night, or the perplexing events which took place after his last conversation with his mother, Fatima Nafees, who was on her way to meet him.
Ammi is a documentary which attempts to outline the emotional and factual aspects of JNU student Najeeb Ahmed's disappearance.
·Ammi is named so after his mother Fatima Nafees; the film explores her personal loss as well as the fight she put up against the powers-that-be.
·Despite the resultant feud between students at the university and the sociopolitical uproar, director Sunil Kumar says that Najeeb's disappearance may not really be as complicated as it seems.

Related Articles: