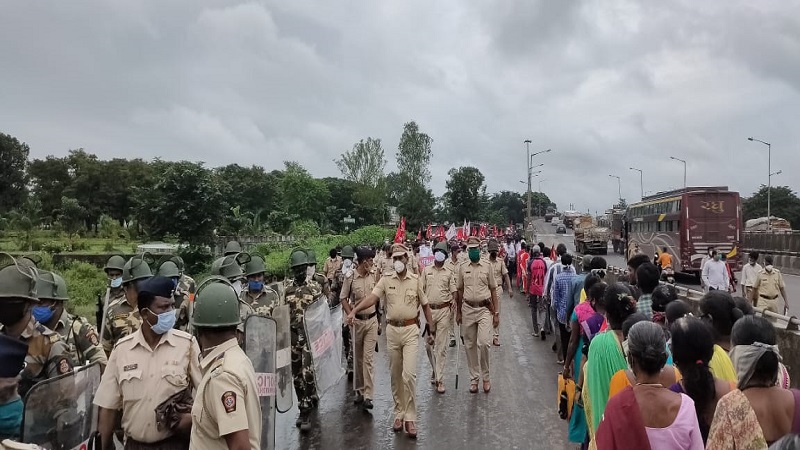 National and state highways across India will be blockaded between 12 PM and 3 PM on February 6, 2021, as per reports from various parts of the country on February 5 to protest the anti-people laws of the central government.
On the call of the Sanyukta Kisan Morcha (SKM) farmers all over India will block highways to decry the severe repression of farmers along Delhi borders by way of cement barricading, stoppage of electricity and water supplies and internet shutdown.
The nationwide chakka jam (blocking roads) will end with honking of horns at 3 PM. However, leaders have said that Delhi and NCR will not be a part of the chakka jam event.
Instead, All India Students' Association N. Sai Balaji said that various people's organisations and farmers groups have received a combined call to gather for a public meeting at Shaheed Park, at ITO, Delhi to express solidarity with farmers.
While Kolkata will witness farmers protest from 2PM to 3 PM at Dharmatala, Esplanade crossing and other districts. Only state and national highways will be blocked.
Meanwhile, All India Kisan Sabha (AIKS) Finance Secretary P. Krishnaprasad said that Karnataka, Kerala and Tamil Nadu have prepared for widespread protests on Saturday. Specifically, Kerala farmers will observe panchayat-level demonstrations in nearly 1,000 regions of the state instead of road blockades.
However, Karnataka's Joint Struggle of Farmers, Daliths and Workers coalition group Coordinator Bhat said that farmers and workers together will observe chakka jams in 30 out of all 31 districts.
"We can't observe a chakka jam in urban Bengaluru but nearby roads and national highways will be closed. We hope to continue the statewide protests for at least an hour," he said.
A stage has been prepared at the capital city outskirts, said Patriotic Youth Movement's (PYM) Bengaluru Convener Ravi, from where people will block state highways.
Much like Karnataka, All India Kisan Sangharsh Coordination Committee (AIKSCC) Tamil Nadu Convener K. Balakrishnan said that at least one taluka in every district will observe "road roko" protests for at least half an hour to an hour.
"It will not be possible to observe three-hour-long protests especially in Tambaram, Chennai and similar parts of the state. The police won't allow the traffic jam," said Balakrishnan.
He said that police would most definitely arrest protesters. Nonetheless, farmers said they were resolved for arrest. The Convener also sent letters to regional political parties for further support.
Further, Rythu Swarajya Vedika (RSV) Co-Founder Navin said that from Telangana Hyderabad capital city, Suryapet, Warangal,Jangaon, Mehboobabad, Nirmal and four other districts also confirmed participation in the chakka jam. In Andhra Pradesh, roads will be blockaded in Visakhapatnam, Kurnool, Ananthapura, Kadappa, Guntur, Vijayawada and Anakapalle districts. Participants will observe the protests between the stated time period.
On the other hand, the AIKS and the All India Democratic Women's Association have prepared for chakka jams across India for three hours on Saturday afternoon.
AIDWA State Secretary Prachi said women villagers from Dahanu and Vikramgad will participate in the event in large numbers.
Similarly, Janwadi Mahila Sanghatana member Sunita from Talasari district said farmers in the areas had received police permission to observe road blockades for all three hours. "Until the three laws are repealed, we will continue our support with Delhi farmers," she said.
In Punjab, people's widespread support for the movement continues. Water Supply and Sanitation Contract Workers' Union (WSSCWU) President Varinder Singh said workers would join farmers' protests from wherever possible, carrying their flags and placards.
Similarly, AISA General Secretary Sandeep Saurabh said that student members in the rest of the country will also join nearby farmers' protests with placards. Regarding the recent incident of international support to the farmers' movement, he said, "When the Capitol Hill incident happened, Prime Minister Narendra Modi said it was unfortunate. But when lakhs of farmers protest and people come to express solidarity, you hinder people. This shows that India's sovereignty is under threat," he said.
Related:
Punjab lawyers set up help desk at Delhi protest sites
Farmer dies at Ghazipur border, family booked for draping body in Tricolour
Why do Urban and Rural Indians have such different priorities?
Farmers' movement: How NIA summons triggered the 'Khalistan' conspiracy theory
Kisan Ganatantra Parade: How the mainstream media deliberately ignored ground realities