Channel claims it did not breach any News Broadcasting Standards Authority guidelines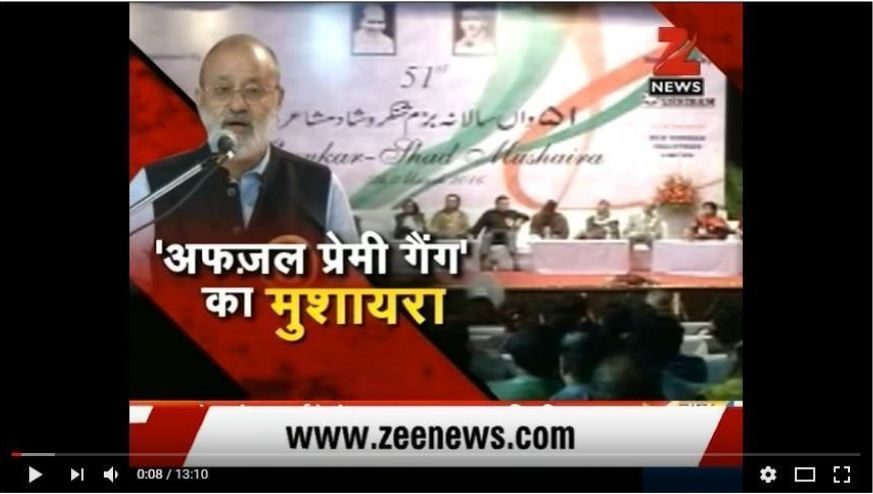 The autonomous News Broadcasting Standards Authority (NBSA) has passed an order directing Zee News to pay a fine of Rs 1 lakh and telecast a public apology during Prime Time to poet and scientist Gauhar Raza for branding him as an "anti-national".
The fine is to be paid within 7 days. The apology is to be published on September 8 at 9 p.m. on Zee News, "in Hindi text, in large font size, on full screen, and a clearly audible vioce over in slow speed".
Zee News had telecast a programme titled 'Afzal [Guru] Premi Gang' several times in March last year in which derogatory statements were made against participants in the 'Shankar-Shaad Mushaira', held annually to promote Indo-Pak friendship.
An outraged Raza had filed a complaint with the NBSA alleging that he had been "maligned, defamed and hate engineered against him by the malicious, concocted and motivated news telecast carried by Zee News." The complaint said the programme had aired only selected portions of some of his poems and branded him "anti-national" on the basis of prejudice and malice.
A joint complaint was filed simultaneously by eminent artists like Ashok Vajpeyi, Shubha Mudgal, Sharmila Tagore and Syeda Hameed. Advocate Vrinda Grover argued on behalf of Raza and other complainants.
The NBSA order observes: "The broadcaster had failed to give an opportunity to professor Gauhar Raza, who was being reported upon, to give his version/views; broadcasting a programme using the footage of JNU incidents with the poetry recital of Raza and giving title to the programme as 'Afzal Premi Gang ka Mushaira' was highly inappropriate and derogatory as mere reference by Prof. Gauhar Raza while reciting poetry to 'Kanhaiya', 'Nehru University' and 'Rohit Vemula', could not be a ground to brand the poet, the organizers of Mushaira and the audience as Afzal Premi Gang."
A press statement issued by Raza said "the NBSA has awarded the highest punishment in its jurisdiction, reaffirming that big media houses cannot trample over the rights of citizens to freedom of speech and expression, which includes the right to dissent".
Meanwhile, talking to the Indian Express, the editor-in-chief of Zee News Sudhir Chowdhary denied his channel had breached any NBSA guidelines. Claiming that "we follow all journalistic principles and guidelines issued by NBA while telecast of news stories," Chowdhary said the channel will appeal against the order.
Read the full order.