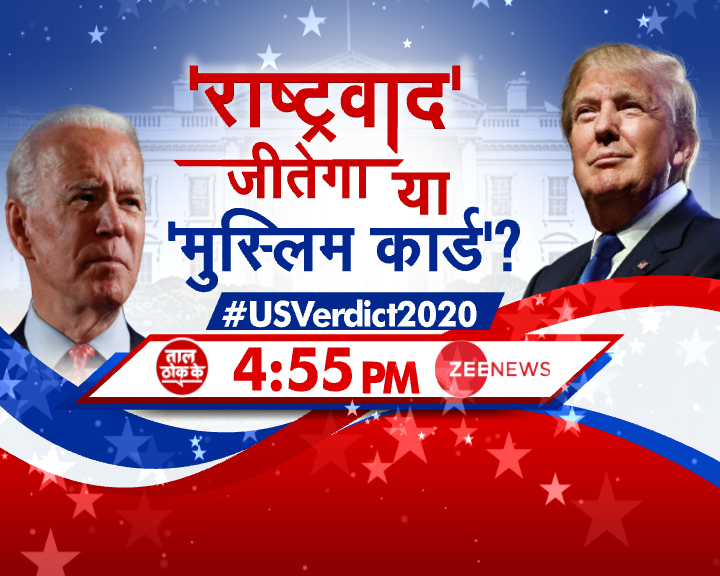 In a deeply communal tweet, Zee News has projected the electoral battle between Donald Trump and Joe Biden as one between 'nationalism' and the 'Muslim card'. The tweet promoting a show tracking election results asked viewers, "Will 'nationalism' win or the 'Muslim card'?"
'राष्ट्रवाद' जीतेगा या 'मुस्लिम कार्ड'? #USVerdict2020 पर ट्वीट कर दें अपनी राय @TarekFatah@gauravbh@smitaprakash@alokmehtaeditor@ghanshyamtiwari

देखिए देश का पसंदीदा शो ताल ठोक के LIVE 4:55 PM @ZeeNews पर @AmanChopra_ के साथ pic.twitter.com/6c1Xq8IIpx

— Zee News (@ZeeNews) November 4, 2020
While the 'nationalism' reference ties Donald Trump neatly with the purported agenda of the Indian regime thereby projecting him as a more desirable candidate, it was the tethering of Biden, and by extension Democrats and all liberals, to the so called 'Muslim card'.
It is well known that Donald Trump had instituted a 'Muslim ban' preventing people from seven predominantly Islamic nations from flying into the United States in January 2017. Democrats remained staunch and vocal critics of the move that was also contested tooth and nail in the courts. Several civil liberties groups, most notable the American Civil Liberties Union (ACLU) were at the forefront of the campaign against Trump's Islamophobic Executive Order.
Meanwhile, the tweet attracted criticism online:
@narcoticsbureau I think zee news k office jana chahiye aap logo ko inke harkate Ajeeb hoti jaa rahi hai ??.

— Arvind Mishra (@arwiiind) November 4, 2020
Godi modia can't survive a day without mentioning Muslims/Islam. So much of obsession, they make headlines accordingly.

— عبدالخالق (@APonderer_) November 4, 2020
USA has only 1.1 percent Muslims. So much obsession with Muslims? Or your channel runs only coz of Muslim word

— Abide in the truth (@Abide_in_truth) November 4, 2020
Our take:
Zee News has often added a communal hue to its reportage. The most recent instance being a special show on "Zameen Jihad" against which SabrangIndia's sister-organisation CJP has filed a complaint with the NBSA. For a democracy to thrive, the fourth estate must function with accuracy, balance and showcase respect for ideas like harmony, tolerance, diversity and inclusion.