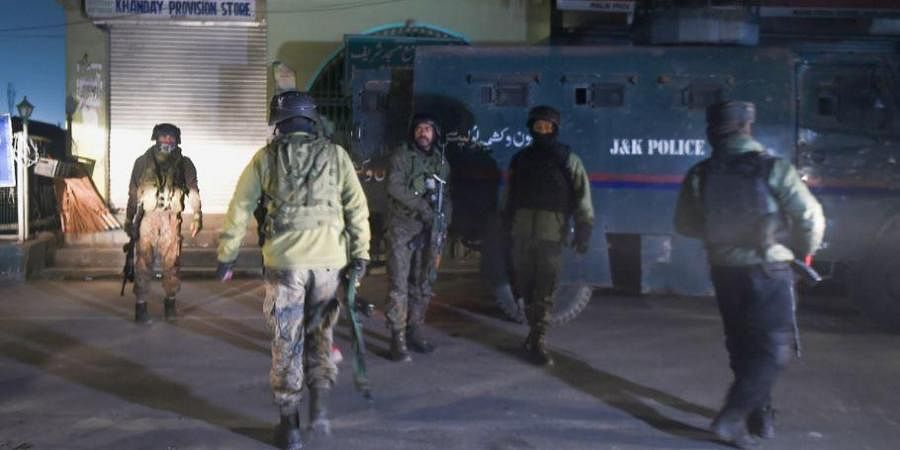 Image: PTI
Hours after the militant attack on a police bus on Srinagar-Jammu highway near Zewan area of Srinagar, the death toll rose to three, as one of the 12 injured succumbed at a hospital on Tuesday, reported Greater Kashmir. The deceased has been identified as Rameez Ahmad, who hailed from Yachama Ganderbal. He succumbed to his injuries on Tuesday morning.
Two policemen were killed and a dozen others injured, on Monday, after militants attacked a police bus in a highly fortified neighbourhood of Srinagar. Those killed in the attack on Monday evening were identified as Assistant Sub Inspector Ghulam Hassan, who hailed from Top Neel Bharthand Ramban and Sgt Safique Ali who hailed from Mamakoti Mahore in Reasi district.
The vehicle carrying 25 personnel of the 9th battalion of Indian Reserve Police (IRP) was attacked by militants at 6 P.M. According to news reports, the attack was by three militants of "Kashmir Tigers" which is said to be an "offshoot" of Jaish-e-Mohammad (JeM). This attack has been reported as the first major one targeting security forces in the Valley since the abrogation of Jammu and Kashmir's special status in August 2019. In February 2019, 40 CRPF personnel were killed at Pulwama.
Now, the police in Kashmir have reportedly decided to provide bulletproof vehicles to its personnel for travel. Kashmir IGP Vijay Kumar told the media at the wreath-laying ceremony for the slain cops, that "three militants of Jaish-e-Muhammad (JeM) including two foreigners and one local, carried out the attack." According to a report in The Week, IGP Vijay Kumar said, "The attackers had done recce of the area and the attack took place when Road Opening Parties of security forces were withdrawn." He said that this attack was a weapons snatching bid by the militants and "the policemen retaliated and didn't allow militants to snatch weapons,'' adding that the "blood trail" of an injured militant "suggests that the group first fled to Pampore and then to the Tral area of Pulwama." IGP Kumar further said that police are on high alert and that policemen who need to travel from one place to another will be provided bulletproof vehicles.
Prime Minister Narendra Modi has sought details on the attack and expressed condolences to the families of those killed.
PM @narendramodi has sought details on the terror attack in Jammu and Kashmir. He has also expressed condolences to the families of those security personnel who have been martyred in the attack.

— PMO India (@PMOIndia) December 13, 2021
FormerJ&K Chief Ministers, National Conference leader Omar Abdullah and PDP leader Mehbooba Mufti also condoled the deaths. Mehbooba Mufti also added that the Centre's "false narrative of normalcy in Kashmir stands exposed yet there has been no course correction"
Terrible news of a terror attack on a police bus on the outskirts of Srinagar. I unequivocally condemn this attack while at the same time send my heartfelt condolences to the families of the deceased & prayers for the injured.

— Omar Abdullah (@OmarAbdullah) December 13, 2021
Terribly sad to hear about the Srinagar attack in which two policemen were killed. GOIs false narrative of normalcy in Kashmir stands exposed yet there has been no course correction. My condolences to the bereaved families.

— Mehbooba Mufti (@MehboobaMufti) December 13, 2021
Police told the media that the militants had "fired indiscriminately on a police bus of the 9th Battalion of J-K Police's armed wing at Zewan on the outskirts of Srinagar city". The injured were immediately shifted to the Army's 92 Base Hospital at Badamibagh where three succumbed. According to the IE report, the militants "came on a scooty, fired indiscriminately on the police bus and escaped." The Police statement added that their "preliminary investigation has revealed that three terrorists had fired indiscriminately upon a police vehicle carrying police personnel near Zewan… police party was coming back to their campus after finishing their duties. Although the fire was retaliated, taking advantage of darkness, the terrorists managed to escape from the spot." One of the militants was injured in retaliatory fire, police said, adding that, "Credible sources revealed that the attack was carried out by Kashmir Tigers, an offshoot of JeM."
Zewan houses J-K Police's armed wing complex, home to several armed police battalions. It also houses the sector headquarter of Central Reserve Police Force (CRPF) and station headquarter of Indo-Tibetan Border Police (ITBP), reported IE adding that in 2021, as many as 20 policemen have been killed in militant attacks in the Valley. Two days ago, militants killed two policemen in Bandipore.
In September 2019, Union Home Minister Amit Shah had said that stripping Jammu and Kashmir of its special status and the abrogation of Article 370 was a tribute to all soldiers martyred on the borders. According to a 2019 report in India Today, at 27th Raising Day event of the Rapid Action Force (RAF) in Ahmedabad, Shah had said, "Our Prime Minister has given a fitting tribute to all those jawans who were martyred while securing the nation by scrapping Article 370. This was done so that no other soldier is martyred again on this land," adding, "Kashmir will now move on the path of development. If anyone tries to create any disturbance in Kashmir, remember our soldiers are standing at guard."
Related:
The Reality and Myth of Article 370
Nine FIRs against detainee, basis for preventive detention under PSA: J&K HC
MEA lashes out against OHCHR comment on Khurram Parvez's arrest
Kashmiri men allegedly attacked in Jharkhand ask "Are we not indian?"